I first met Midshipman Megan Anne Pelly (RAN) during her final year at the Australian Defence Force Academy (ADFA), Canberra in 1997. I was teaching history at the UNSW campus and doing research on women in the military. Megan offered to be interviewed for that research. Megan had mixed feelings about her time at ADFA. She had made the firmest of friends, enjoyed many phases and social activities, and appreciated the education opportunities, but the behaviour of a minority of ADFA cadets had been infantile and not appreciated, in a time when the Corps of Cadets held too much power. Megan just couldn't wait until she entered the 'real' navy.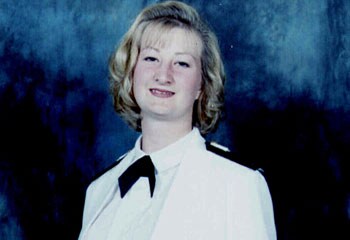 There was a strong Australian army tradition within the Pelly family. An aunt, her father Lyndon, and her sister Kimberley, were Army, which is probably why Megan decided to apply to join the RAN. Lyndon Pelly served with the Australian 2nd Field Engineers' Regiment, and when the family finally settled into civilian life, they chose Dalby, on the picturesque Queensland Darling Downs. The youngest Pelly seemed wiser than her years and was fascinated by the mechanics of things. During the school holidays she accompanied her father on his engineering jobs, asking endless questions, and quickly learnt which tool was which when he asked for it.
At Dalby State High she thrived and as a member of the esteemed top five per cent accepted the extra lunchtime tuition offered to brighter students. She graduated with 'High Achievement' and 'Very High Achievement', in chemistry and biological science and was in the top ten per cent of Queensland graduates Megan Pelly applied for entry into ADFA as an RAN Engineer Midshipman and was accepted. Away from the close-knit Pelly family and country community, it was a difficult adjustment and Megan failed 1st year academics. She accepted a change of RAN career stream, to supply. At least she would still be in the RAN and could serve at sea.
There had never been enough hours in the day or days in the week for Megan. Brief leave from ADFA did not mean a slower pace. In 1996 she had challenged her father Lyndon to accompany her on a tandem skydive, reasoning that life should be full of excitement and commitment – Lyndon was not quite so sure, but they both survived.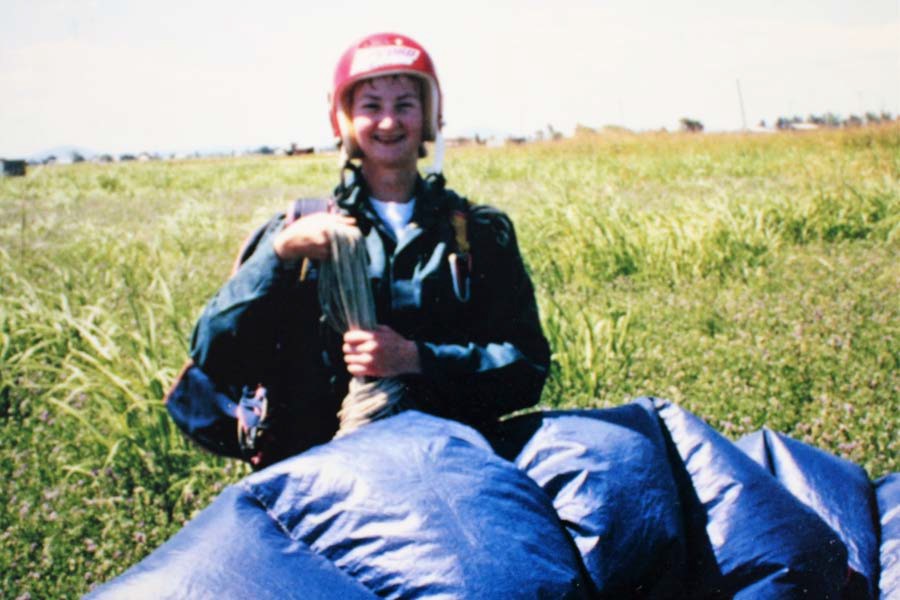 The exhilaration, pomp, and circumstance of the ADFA graduation parade and ball in December 1997, were extra special because her family was down from Dalby. I shook her hand and wished her well on parade day, her characteristic grin never left her face as she knew the career she had long wished for was really about to commence.
The yearly engineering review conducted on HMAS Westralia in 1997, detected a long list of leaks and other defects which needed to be seen to as soon as possible; but they were not. It seemed Westralia received funding for repairs and defects only if they, 'were absolutely critical'. This largest ship in the Australian navy should never have been purchased. It had been found resting on a Scottish mud bank and £5.7 million sterling (14.9 million AUD) paid to lease it for five years. In 1994 the ship was purchased outright for £4 million (10.5 million AUD). It came as a surprise to British sailors who had crewed the ship. The Royal Fleet Auxiliary had decommissioned the ship, its crew believing it was a total 'lemon'.
The Australian Department of Foreign Affairs and Trade had argued in The Hague against single-hulled tankers, and their potential catastrophic consequences for the environment and, had expressed Australia's concern for such tankers sailing in the vicinity of the Great Barrier Reef, yet someone in the Australian Government hierarchy signed off on the purchase of an old single-hulled tanker to enhance the Australian fleet.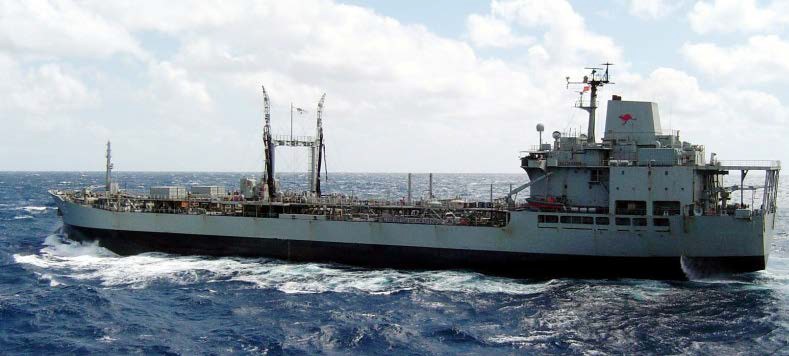 The Main Machinery Space (MMS), had a terrible configuration. There were no bulkheads dividing the machinery into smaller compartments, just cathedral-like open space, split into levels of decking and walkways; 28 frame spaces divided into three levels – the 'top plates', 'middle plates' and 'bottom plates'. The MMS was huge. Not only was it massive, but access between the plates was via unusually long, narrow, steep ladders. Westralia was designed as a merchant products tanker with an unmanned machinery space. The RAN used the ship as a tactical underway replenishment tanker, much different from what the ship was designed for. There was, no communications within the machinery space. For the uninitiated, the MMS at best was formidable, at worst plain scary.
Midshipman Megan Pelly, climbed HMAS Westralia gangway in an optimistic mood. In just days, the crew were being deployed to exercise with the Indonesian navy. This ship provided her a unique opportunity to learn the nuts and bolts, to complete her six-month qualifications as a Supply Officer and be promoted to Sub Lieutenant. The future was bright. Her deployment promised to be hard work but exciting. Her first training phase consisted of one month in the engine room which given her father's career and her fascination with engineering, she relished.
Westralia had been long haunted by fuel leaks but the navy maintenance budget had been compromised. There were problems within Australian Defence Force (ADF) logistic support and contracting during the 1980s and 1990s. Allegations of fraud, nepotism, and theft were rife. In October 1997, the media reported 'corruption was endemic'. One interview asserted: 'navy contracts, specifically in relation to misconduct in business dealings, contract nepotism, warranty abuse, misquotations, and substitutions of reproduced vs genuine parts.' The original quote from the engine manufacturers to fit new flexible hoses to resolve the problem ran to around $90,000, a hefty sum for a depleted budget. In 1998 the RAN contracted Australian Defence Industries (ADI) to resolve the leaks. A new company started by a former RAN marine sailor, known to the ADI technical supervisor, was sub-contracted to manufacture and install flexible hoses – his quote was $3,600. He had very little experience and the task was complex.
At 0900 on Tuesday 5 May 1998, Westralia cast off from the dock in Western Australia to begin an exercise with other navy ships. Onboard was a crew of 96 and 20,000 tonnes of F-76 diesel fuel. On the top decks morale was high, six weeks away was a easy deployment compared to six months in the Middle East. Exotic ports beckoned after the serious duty, time to bask on tropical surf beaches, to enjoy beer in tropical bars, and shop for souvenirs. Below decks junior engineering sailors were deeply concerned but powerless.
Both Petty Officer Shaun Smith and Leading Stoker Bradley Meeks had relayed their grave concerns to families.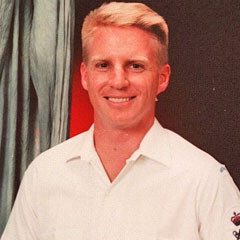 As the engines were brought to full power duty sailors in the cavernous engine room detected a fuel leak. Their efforts to rectify the leak proved impossible and a request was made to shut down first one and then both engines. Protocol was followed and fire parties readied. Everything happened too quickly. POMT Ray 'Max 'Francis slid down ladders to assist. 'There was fuel everywhere. It was on the deck plate and dripping off the pipes.' He was standing with Shaun Smith when an expulsion of air accompanied by an ominous noise caused him to swing around to see a fire ball burst from the main starboard engine. 'It all went dark. The smoke was that thick you couldn't see your hand in front of your face.' In just over five minutes from when the leak was first observed, the compartment filled with thick black smoke as the flames intensified with terrifying speed. Emergency stations were sounded. For hours the crew fought bravely to save their ship but Smith, Meek, Seaman Phillip Carroll and Midshipman Megan Pelly were dead.
A Naval board of enquiry (BOI) commenced immediately – authorities arguing expediency may prevent a future tragedy, but the engines of Westralia were not yet stripped and many survivors medically incapable of offering coherent statements. Families from Queensland, New South Wales, Victoria and Western Australia, now linked in grief, had yet to bury their children.
The BOI believed the 'new flexible hoses' were not 'properly designed and were unfit for the intended purpose'. The hoses were not processed 'through the RAN configuration change process' nor were they 'approved by the ship's classification society, Lloyd's Register'. Both processes were bypassed 'largely as a result of ignorance and incompetence'. The fuel hoses 'had failed due to fatigue after less than 40 hours operation'. The project was not properly managed or supervised. Neither the supervising ADI technical supervisor, or sub-contractor were qualified engineers. Those who had the most to lose pleaded ill-health were excused from giving evidence which could incriminate. To the horror of Lyndon and Christine Pelly, and those who knew her, Megan was deemed to have contributed to her own death by disobeying orders and going into the engine room without permission. Vice Admiral Don Chalmers admitted there had been 'systemic failure' and as Chief of Navy (CN) he accepted responsibility and retired. The families believed the human cost was then lost in the battle and blame game between different government and private organisations and fought for further inquiries.
In 2002 the West Australian Coroner held an inquest. The revelations were staggering. The Coroner could not 'diminish the magnitude of poor judgement, mismanagement and deception', which exposed 'negligence of the most gross kind', on the part of the RAN and ADI. It took several more enquiries and nearly five years to achieve exoneration for Megan. The duty engineering officer finally admitted that against RAN protocol, he had ordered her into the engine room to assist AB Carroll to lay out fire hoses. Megan was then expected to act as hydrant sentry for Carroll who held the hose nozzle. The fire hoses were never charged, or the hydrant turned on and the duty officer did not ensure she evacuated. Despite the danger Midshipman Pelly stayed at her post awaiting orders. Trapped eight stories down on the seventh day of her first sea posting she was overcome by toxic fumes and fell forward, where she had been left. Midshipman Megan Pelly was 22 years old.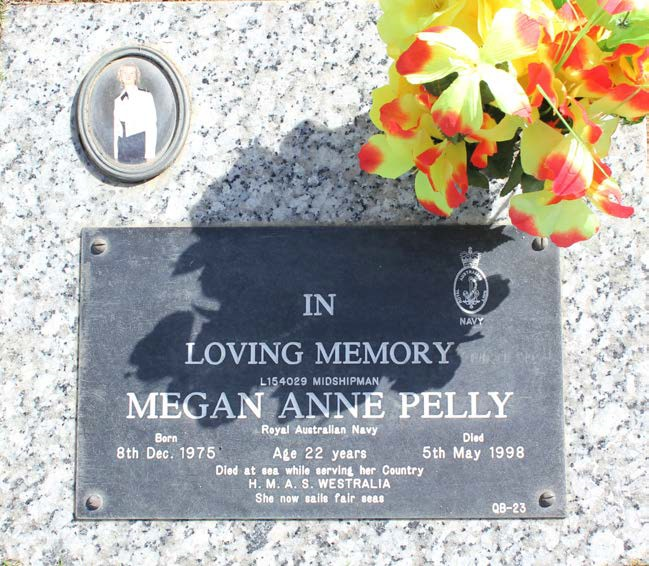 On one of my trips to Dalby, Queensland, I visited Megan's grave. It is in a quiet corner which is visited by her many family and friends. The close-knit Dalby community had been in shock, shattered that one of their brightest had been killed so young. Few did not know Megan, had not shopped at the Pelly corner store. The Pelly family were told by government authorities that regardless of the large numbers who wished to attend the full RAN funeral and follow the hearse from church to cemetery the main road through Dalby could not be closed to traffic. Dalby's Mayor Warwick Geisel declared the road through his town closed until the funeral cortege had passed. Just about the entire region's population walked quietly behind.
As another anniversary of Megan's death and those of Shaun, Bradley and Philip, approaches, the question remains: 'Why was no disciplinary action or criminal charges brought against those responsible?'
Kathryn Spurling, Fire at Sea: HMAS Westralia 1998, 2019, Missing Pages Books/Elephant Tree Publishing.