The achievements of Lauren Jackson are legendary and now recognized by her inclusion in the Naismith Memorial Basketball Hall of Fame, only the second Australian, and first Australian woman to be so honoured. Basketball was pretty much Lauren's life from when she started to walk. She bounced the basketball around the courts whilst her parents were playing – both represented Australia. Her grandmother cut down one of her mother Maree's 'Australia' tracksuits for the young Lauren, doubtless she had some premonition that with such tall parents, already good hand eye co-ordination and flash of competitiveness, there was an inevitability to it.
Growing up in Albury, New South Wales, was comfortable, though being so tall from an early age ensured some awkwardness through the school years. Lauren quickly caught the attention of Australian basketball coaches and was selected for national teams – the under 20 team when she was just 14. She was only 16 when selected for not only an Australian Institute of Sport Scholarship but the senior Australian National Women's Basketball team – The Opals.
Lauren is the first to admit that the move to the national capital was difficult. Her family was close and her mainstay in life. She was a country girl. The first years meant a sharp learning curve and lots of homesickness. Basketball previously had been fun and twice weekly training. At the AIS it was twice a day and gym sessions and of course she was supposed to complete her last two years of high school – and fit in Australia-wide game fixtures and represent Australia overseas. She nearly quit, but there was that memory that as a 12-year-old she had written in her diary that she would represent Australia at the Olympics, and Australia was due to host the summer Olympics in 2000.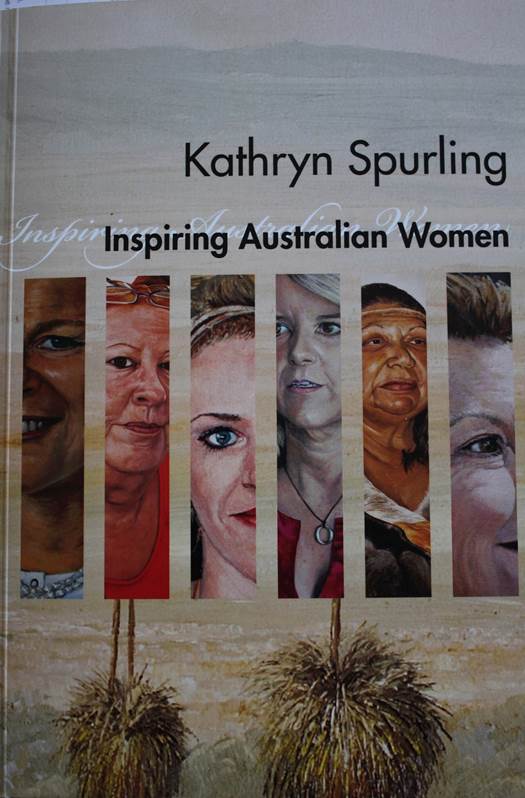 Lauren Jackson was an easy choice when I was deciding which six remarkable Australian women I would feature in my Inspiring Australian Women book. I had met her through my own basketball playing days (I was a very bad player and only marginally better coach). I had watched her and her fellow AIS teammates beat all the senior professional teams to be the first AIS team to win the Women's Basketball League title. The problem was that Lauren just wasn't great at talking about herself. That's the odd thing about Lauren, and indeed a lot of remarkable women, they aren't good about talking, especially about themselves.
In 2001 Lauren was the Number 1 draft choice in the United States Women's National Basketball Association (WNBA) draft, quite an achievement for a non-USA player, let alone an Australian. She was selected by the Seattle Storm. Again, that first couple of years in the big league, so far from home were testing to the extreme. Seattle however was a gracious city which enveloped her.
She played for Australia in the 2004 Olympics, was Captain of The Opals at the 2008 Olympics. We just couldn't beat the United States and had to settle for silver in 2000, 2004 and 2008. However remarkably Lauren captained The Opals at the 2006 FIBA World Cup, in Brazil, to win – for an Australian team to win the World Cup had been unthinkable.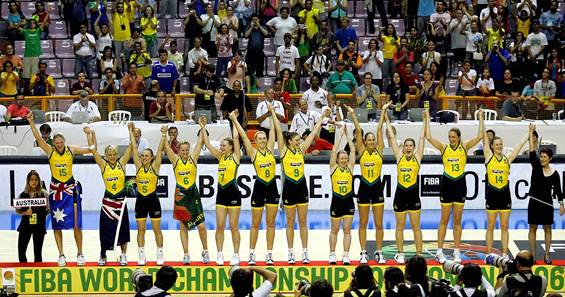 While playing for the Seattle Storm she won two WNBA championships and was named the Most Valuable Player in the WNBA three times – not bad for an Aussie from Albury. Lauren also played in the Korean basketball league and did several seasons with WBC Spartak Moscow team. In each she took out the most valuable player award. In fact, Lauren Jackson was named Most Valuable Player on every continent except Africa and that is because she never played in Africa.
Getting back to that non-talking bit and wanting to include Lauren in my Inspiring Australian Women book.
It wasn't just because she was a great athlete but due to her reticence few knew that she spent a lot of time helping in women's shelters and was patron of the NSW Rape Crisis Centre.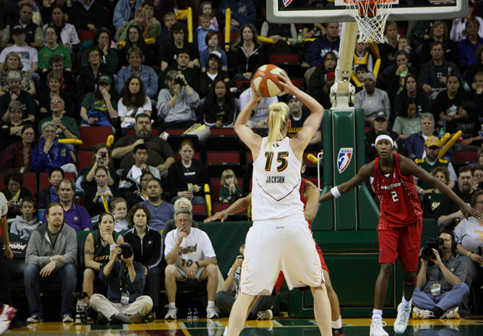 I had visited Seattle a couple of times to watch her play on my way back from lecturing in the USA. The second time her Mum Maree was in town. We chatted in the grandstand while Lauren was warming up, she was normally the first to get out on the court to warm up and the last to leave. The Seattle crowd was always massive and very basketball savvy, so it was a mind-blowing experience to watch a game at Key Arena. Yet again, Seattle won and Lauren was the top-scorer – my camera was busy.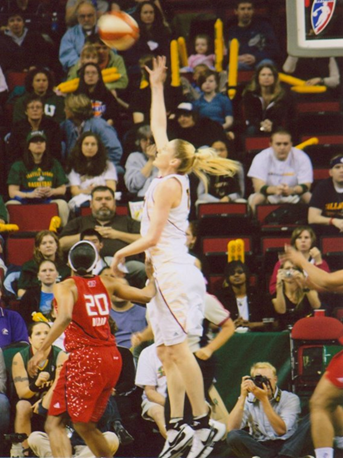 After the game we met up and Maree simply said, 'Lauren you should do this'. The mother and daughter have always been extremely close. The following day I spent time in Lauren's Seattle flat and she finally spoke – well in that modest, quiet Lauren way.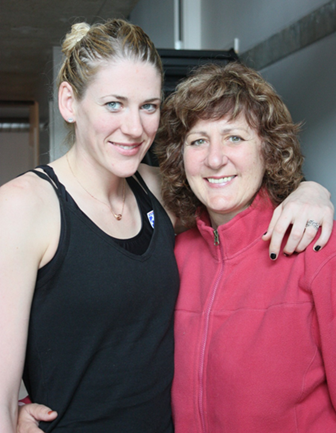 There were other catch-ups before the book was published in 2013, and since.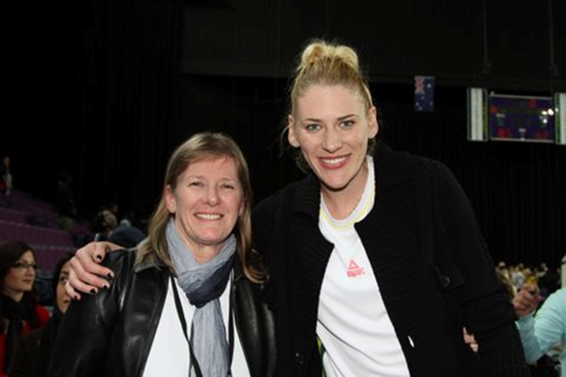 Come on this was a while ago, my skin isn't as tight anymore but Lauren still looks great.
Perhaps one of the most memorable, and humourous, was when Lauren visited my house so that Margaret (Margaret Hadfield) could paint her portrait for inclusion in the book except it wasn't exactly a 'portrait'. Margaret had decided to paint Lauren full size. Margaret on a good day is 1.6 metres tall and Lauren is 1.9metres tall. It wasn't long before there was the cry 'I can't reach her head'.
We needed to fetch a ladder, which is why there is a slight smile on Lauren's face. Margaret wanted to get 'both sides of Lauren (the mongrel on the basketball court versus and the shy quiet off-court individual)'. Lauren replied: "Good luck with that because I don't understand them"'. 'Not being an artist, I suggested that the canvas could be placed on the floor Lauren could lie on it and Marg could trace the outline. I was treated with total disdain by the artist and told to stick to writing books. At least Lauren thought it funny.

The portrait was unveiled at a Canberra Capitals home game and Lauren was very pleased with it. She asked that a full-sized copy be donated and raffled off for the NSW Rape Crisis Centre. The original was a finalist in several major art prizes and Lauren's portrait now 'resides' in Margaret Hadfield's The Artists Shed, at 88 Wollongong Street, Fyshwick.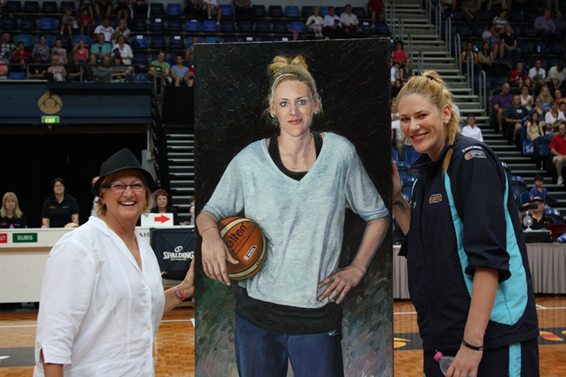 The tall and the short of the portrait collaboration – Lauren Jackson and Margaret Hadfield
Since then, there have been more momentous occasions in Lauren Jackson's life. She would have liked The Opals to have won more than bronze at the London Olympics in 2012 but for her it was remarkable because she was chosen to carry her nation's flag in the Opening Ceremony. Retirement allowed her to slow down and give birth to two lovely boys and now, inclusion in the Naismith Memorial Basketball Hall of Fame. Well done Lauren!
The book Inspiring Australian Women featuring Helen Reddy, Natasha Stott-Despoja, Fiona Wood, Matilda House-Williams, Geraldine Cox and Lauren Jackson, has been as successful as it was enjoyable to write so I am on the search for five or six, this time, international, inspiring women, who inspire and work to make our world a better, more tolerant place 'there are so many to choose from!'. COVID just needs to disappear and the Australian borders open.