Oh, these poor men! It is simply heartbreaking.
Sister Hilda Knox, June 1915.
Hilda Mary Knox was born in the pretty Victorian town of Benalla on 29 December 1884. Positioned on the banks of the Broken River it was a pleasant environment in which to grow up. Her father, James Knox, was the Shire Secretary and he and wife Mary watched their family grow in the lucky country into fine adults. The Knox family were well-known, if not because there were eleven children, but they were recognised as a caring and community-minded family. James Baldock Knox was born in Surrey England in 1846. Following his arrival in Australia he fell in love with Australian-born Mary Isabella Barlow, from Woolshed near Beechworth, Victoria, nearly 18 years his junior. They made a handsome couple and, the family grew rapidly.
Being the eldest Hilda assumed perhaps prematurely, the role of carer to her many younger siblings. Described as having a charming disposition Hilda won academic prizes and excelled musically, but she would not marry or have children of her own. The domestic expectations and experience did however prepare her for one of the very few occupations deemed suitable for young middle-class women – nursing.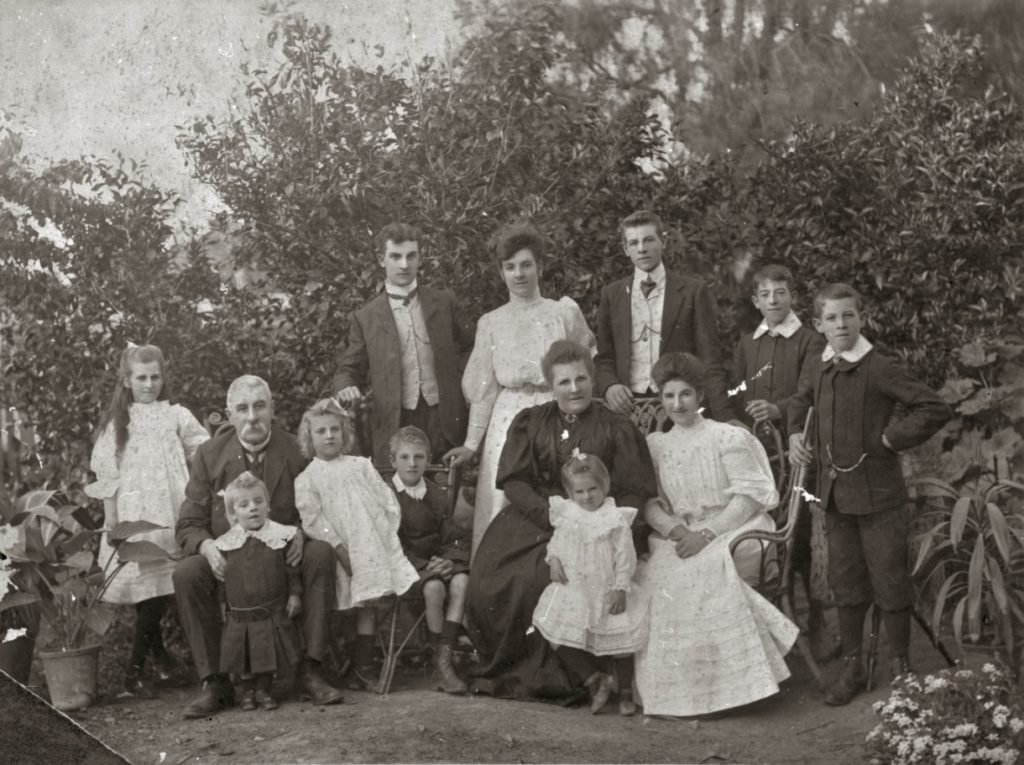 By 1911 Hilda had moved to Melbourne and was training at the Homeopathic Hospital and within three years she gained her nursing general certificate and oversaw a ward. On 6 November 1914, Hilda Mary Knox enlisted in the Military Forces of the Commonwealth as a volunteer for the Australian Army Nursing Service (AANS) – she was 30.
Qualifications for the AANA were to have not less than three years of training and service in medical and surgical nursing, in a civil General Hospital. Parents needed to be British or the candidate a naturalised British subject, single or widow aged between 21 and 40. Enlistment forms had not caught up with the acceptance of women volunteers and page three needed to be filled out by a medical officer who vowed he had examined the 'said person' for conditions which included:

Syphilis; marked varicocele with unusually pendent testicle; or any other disease or physical defect calculated to unfit him for the duties of a soldier.

The front of the form was soon rubber-stamped with 'Nursing Service' and although the same afflictions remained, the examining officer, simply included the facts that Hilda was 5ft 7inches (170cm), weighed 10 stone (63.5kgs), had dark complexion, brown eyes and hair and a chest measurement of 36inches (91.44cm).

Sister Hilda Knox, AANS, was a member of the very first detachment of Australian nurses to leave for the war. They pledged:
Loyalty to serve my King and Country and to maintain the honour and efficiency of the Australian Army Nursing Service. I will do all in my power to alleviate the suffering of the sick and wounded, sparing no effort to bring them comfort of body and peace of mind. I will work in unity and comradeship with my fellow nurses. I will be ready to give assistance to those in need of my help and will abstain from any action which may bring sorrow and suffering to others. At all times I will endeavour to uphold the highest traditions of Womanhood and the Profession of which I am Part.

In 1914 it seemed so easy to pledge with total conviction, such an embellished and glorious oath.
The nurses were farewelled in a celebratory fashion at the Melbourne's Grand Hotel on 20 November with much pomp and circumstance. The large dining-room was decorated with the Allied national flags, the Red Cross flag and flowers. The buffet supper was sumptuous, the speeches patriotic and the event ended with powerful vocal renditions of anthems and 'Auld Lang Syne'. Former 'Lady Superintendent' of the Melbourne Hospital, the formidable Miss Bell, was appointed 'Lady Superintendent of the Medical Army Corps'.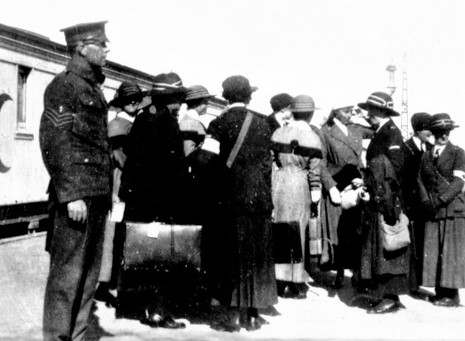 Uniforms were derived from those worn by Australian Boer War nurses and AANS uniforms were adapted during the war through trial and error. Bonnets proved totally impractical under the hot Middle Eastern sun and were replaced by straw hats and veils. The heavy full-length skirt, blouson and cloak proved similarly unbearable, at least until nurses were posted to Europe. Scarlet and grey cloaks and capes distinguished Australian nurses, and they were particularly proud of their Australian military buttons and silver rising sun badge.

Though nurses were not accorded rank in 1914 their nursing proficiency was shown by dark chocolate-coloured stripes on dress cuffs. A staff nurse had a plain grey cuff, a sister wore two brown stripes, and a matron was distinguished by a stand collar and solid brown cuff. By 1916 the AANS outdoor dress had become much more functional – a grey serge suit consisting of a Norfolk jacket, a 5-gore skirt and a grey felt Panama hat with broad chocolate band. Only towards the end of the war was it conceded they were entitled to wear shoulder 'pips', resembling military rank. The number of volunteers overwhelmed recruiting officers. Those who would not wait paid their own passages to England and joined the Queen Alexandra's Imperial Military Nursing Service Reserve (QAIMNSR).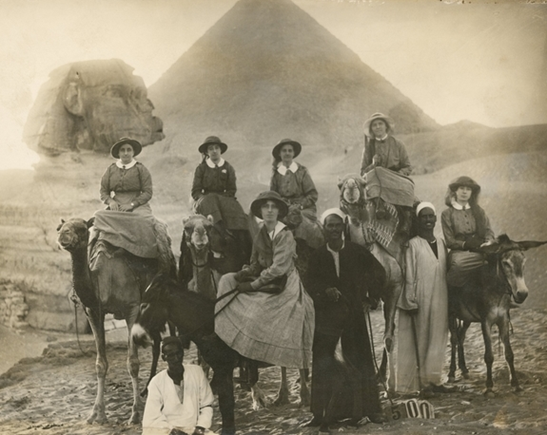 As the Victorian shoreline slipped into ocean mists the voyage to destination unknown onboard the transport ship Kyarra commenced. Little did the excited nurses know the emotional extremes their journey would involve. After weeks at sea, they found themselves in the 'Palace Heliopolis', Cairo, Egypt, but this palace was not grand because it was now No.1 Australian General Hospital. The land of pharaohs and sphinx was like walking into a history book, exploring on camels and donkey's exotic, the sand and dust as memorable but not as enjoyable. Soon nursing skills and devotion to duty were severely tested.

Being born an Englishman and a Shire Secretary James Knox had become an ardent recruiter for the war effort. It was small surprise that his eldest daughter volunteered so early and that her brothers Francis, James, and Robert 'Gordon', followed in quick succession. Perhaps what was unusual was that all chose the medical corps. Francis enlisted on 16 September 1914. A 29-year-old commercial traveller Francis had inherited his mother's blue eyes. He boarded the transport (A46) Clan MacGillivray on 2 February 1915 and arrived in Egypt as forces prepared for the Gallipoli Landing.
On 12 March 1916 Francis Walters Baldock Knox (942) was promoted to Corporal and within the month sewed on the yellow and dark brown shoulder patch of the 3rd Light Horse Field Ambulance. The 3rd Light Horse first saw action during the Dardanelles Campaign in the Battle of Gallipoli where they were noted for their charge during the Battle of the Nek. After being withdrawn to Egypt in February 1916 they were involved in the Sinai and Palestine Campaign until the end of the war. Francis was not a bearer of arms, but his duties were dangerous, retrieving wounded men, providing basic first aid, and ferrying the injured to aid stations and hospitals. Worse still were the burials. 22 members of the 3rd Light Horse Ambulance died, the majority killed in action on died of wounds. In 1916 Francis was admitted to hospital. His eye was saved but his sight impaired and he was drafted to the Australian Depot Stores on the Nile River Island of Ghezireh, to convalesce. The elegant Gezirah Palace Hotel was turned into No.2 Australian General Hospital, after Mena House, was unable to cope with the huge number of casualties from Gallipoli.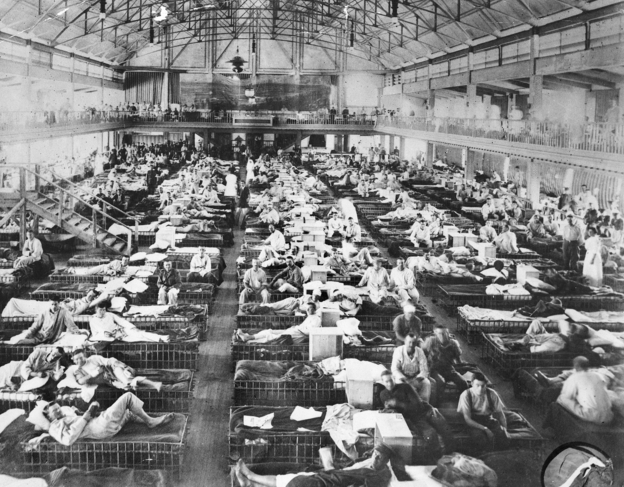 The exciting, glorious adventure had long since disappeared, the harsh reality of war had hit hard. Hilda wrote to her parents in June 1915 from Egypt: 'We are frantically busy working night and day. Oh, these poor men! It is simply heartbreaking'. Aprons did little to save her white ward dress from being splattered with blood – the carnage of Gallipoli was terrible; 'a veritable hell. The Turks have the exact range, and their firing is so accurate'.2

Frank wrote home:
One chap I knew … has a bullet through his face and another through his arm. Others have noses shot off while others again are too awful to mention.

Frank felt both proud and protective of Hilda and the other nurses.
To see the poor girls (I suppose some of them would not like me calling them girls), but really, I feel sorry for them, the way they work. No doubt you are proud of your daughter. (The fellows over here think Hilda a lovely girl.) I am glad to have her here with me although I see very little of her now.

His letter dwindled to a sad ending 'have been too upset to do anything these last few days'.

Corporal R.J Bourke, formerly an auctioneer, wrote of the wonders he was seeing, of the 'finest gardens in Cairo' of how the 'Government cater for the troops in fine style'; of how his friends at home would likely; 'die laughing to see us on top of a camel, tearing along with the drivers yelling like mad to stop'; and his admiration for the ancient culture which had built the 'wonderful' pyramids, 'how they got them in position beats me'. He enjoyed the company of acquaintances from Benalla including 'Frank and Miss Hilda Knox'. Yet his tone changed when observing:
All the wounded coming in … Young Bert Sanderson has a leg off below the knee… Jack Stewart is laid up – nerves, I believe. He had a long spell of fighting.
On the first anniversary of the Gallipoli landings, Hilda was a world away, on home leave where the gentle shades of autumn danced on river waters, contrasting so very much from the harsh deserts of Egypt. But she struggled to relax in this calming atmosphere, languishing in the home of her birth, with brothers and sisters. Hilda needed desperately to relax but there was no escape from the visions which haunted. She wanted to enjoy the simple familial delights but struggled with the knowledge of how needed she was by the soldiers whose torn bodies were placed in her care. It was touching that fellow Benalla citizens gave her a great ovation and an honoured seat as 'guest of the evening' but even that was as unsettling as the newspaper headlines which heralded her with glowing praise: 'One of the fairest of Benalla's daughters'. The black print did not sit well; 'Sister Knox was among the first company of Australian "ministering angels"; someone of sweetness and charm'. Hilda did not see herself as 'heroic' because she simply undertook duties she had been trained to undertake and the 'heroic' ones were those on the front line. The President of the Shire, Councillor Smith, was loudly applauded when he exclaimed 'with fervour' that district men 'had fought in the firing line' while Australians 'read of their deeds with glistening eyes and throbbing hearts'. He had added that; 'Sister Knox and others had held their end up'. The work of nurses may not 'receive headlines' but were worthy of military awards.

Those who crowded the hall stalwart in their patriotism and support of the war could never understand the reality of war. Hilda remembered how such emotion had embraced her once and how she should appreciate the sentiment and the pride her parents took this night as Councillor Smith, spoke of how Hilda had honoured the district by volunteering 'to go forward for King and Country'. Nonetheless it was embarrassing when the Councillor called for three loud cheers, she felt undeserving, and the brilliant smiles and gestures were unsettling.

Hilda was torn, there was the dread of returning but the need to do just that. There were also two more Knox brothers now wearing khaki. James Baldock Knox (14312) was '25 years 5 months', a 'bank accountant' with the Bank of NSW and 'single' when he enlisted in Melbourne on 2 August 1915. James embarked for active service per Ayrshire with the Army Medical Corps on 3 July 1916.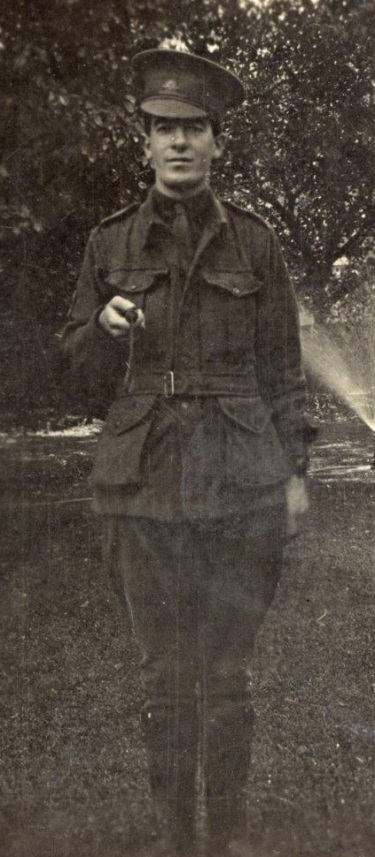 Hilda boarded HMAT A63 Karoola on 19 August 1916. What was wonderful was that Private Robert 'Gordon' Knox (15220) AMC, aged 23, was on the same transport. Gordon shared the dark looks of his sister and gentleness of manner. Like James, he too was employed with the Bank of New South Wales. Gordon was considered highly, likely manager material, a distinguished position in any community. Gordon had wanted desperately to join the war. He tried to look so grown up in his immaculate uniform. To Hilda, Gordon looked young and innocent, and she wondered how she could protect her third brother from what was ahead. It was a relief that upon arriving in Egypt, Gordon was attached to the same hospital, the 14th General Hospital, Abbassia, north of Cairo.
It was Christmas Day 1916. It seemed so strange to celebrate the birth of Christ in Egypt – nothing was like it had been. The traditional Christmas days of childhood were so different. So many brothers and sisters excitedly opening gifts from beneath the tree; the day's church service and the special lunch, the most sumptuous of the year. Robert longed for the green of the Victorian countryside, of the slow very laconic-style flow of the Murray River.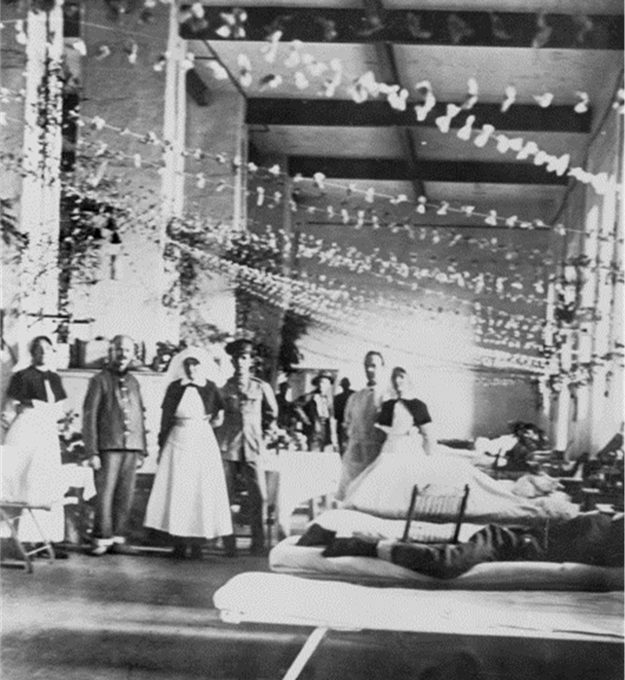 But as much as he missed the family Christmas Gordon took pride in Hilda now being in charge of G6 Ward and delighted in helping her decorate the ward. The decorations at best were rudimentary but they cheered the soldiers in this ward, this hospital, in a joyless war. Gordon struck a proud pose beside his sister and Hilda scribbled a brief note.
My dearest Mother … this is a hurried note to let you know we are all well. Had a very jolly Xmas, Frank was on duty yesterday, so was unable to come out, but Gordon was here, and it is great having him … Much love to all, please excuse this note, Hilda.
Gordon checked his jacket – he had money saved to purchase colourful and unusual Egyptian gifts for his three younger brothers and three younger sisters – his parents also. A teetotaller and shy of women, described by his superior Major Crowther Clarke, as 'sober, steady and reliable', meant Gordon was commonly alone when on leave. This didn't trouble him because he enjoyed the solitude – a wonderful reprieve from the intensity of the hospital. The winter evening light was fading as he moved towards the tram terminal, his mind wandering to what he could see during this short leave. He felt another at his elbow – Private Jack D'Arcy (9715) muttered a greeting and Gordon introduced himself, the Australians walked on.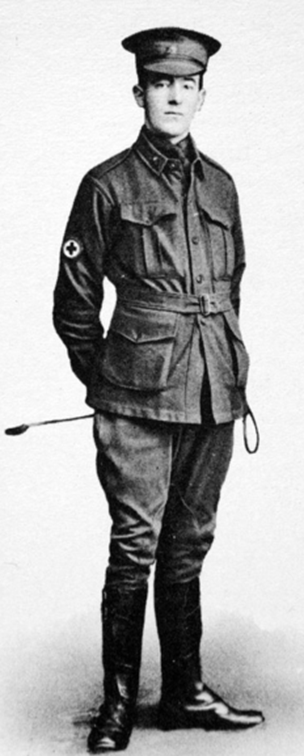 The news was shocking, Hilda struggled to understand. Gordon had 'disappeared'. On 8 January 1917 Gordon's body was found in the River Nile. He was buried the following day in the Greek Cemetery, Banha, Egypt. Hilda attended the funeral and was inconsolable, her brother was not on the front line; he had simply gone to buy presents. She sent her parents a cablegram: 'Gordon drowned, accident, writing'. The flag at the Benalla Shire Hall was lowered to half-mast and the newspaper reported: 'Particulars of how the sad incident occurred will be anxiously awaited'.
Gordon's body was found in the River Nile at Benna, on 8 January 1917 and he was buried on 9 January 1917 in the Greek Cemetery, Banha, Egypt with Hilda in attendance. In In 1919 he was re-interred to Tel-el-Kebir Military Cemetery, 110 kilometres north-north-east of Cairo.
The cause of death was 'drowning'. A Military Court of Enquiry was assembled. It was determined that Gordon had taken a blow to the back of the head, 'probably before he fell or was thrown into the river'. His boots and belt and money were missing. The court observed that Gordon commonly was accompanied on leave by his sister or brother. He most enjoyed walking in Cairo's Azbakeya gardens and Gordon had 'on no occasion overstayed his leave or shown any indication of loose habits'.
Pvt Jack D'Arcy was called to the witness stand. D'Arcy had a poor upbringing and an impecunious reputation. He was a 23-year-old labourer from Bathurst, New South Wales. The army offered a secure salary and an opportunity to leave not only Bathurst but Australia. He was short and nuggetty and was a known brawler. Darcy had embarked at Sydney on A67 Orsova in April 1916. Arriving in Egypt a pattern of drunkenness and absent without leave charges littered his service records, interspersed with periods of sickness. Fines, detention, and sickness meant he undertook little duty, and remained in Egypt until the end of the war. When he returned to Australia, he advised authorities that: 'I am not suffering from any disability due to or aggravated by War Service and feel fit and well.'

D'Arcy told the court he walked with Gordon towards the Abbassia Terminus that evening and that he and Gordon boarded different transport. D'Arcy cited that he spent time in the company of mates before going to a hotel where he stayed for two hours. Soldiers he was allegedly in company with were called to verify his story but could not corroborate. The Court of Enquiry recorded that Gordon had likely been 'murdered by a native of Egypt' and reasoned that his 'fondness for motor riding' meant he ventured further than was safe in this alien environment. Yet, Gordon could not have been riding a motorbike at night. Only another soldier, had use of an additional pair of military boots and belt – an Egyptian attempting to sell such would be quickly detained and interrogated. The official letter arrived at the Knox Benalla home in June 1917. The military court had determined Gordon 'having been drowned on 25 December 1916 … murdered by a native of Egypt'. It was much easier for military authority to blame his murder on 'a native of Egypt' than to hold one of their own, and the reputation of the AIF, to account.

The Australian Medical Corps decided it best to relocate Hilda and she was soon on a ship to England. There was time to recuperate and acclimatise to an entirely different climate and environment before being sent to Rouen, France. If Hilda thought the casualties in Egypt were terrible those pouring in from the Somme were horrific. The winter, the worst for decades, was severe. No.1 Australian General Hospital was cramped, and the site exposed. The cold interfered with the water supply and the shortage of coal restricted heating – nursing staff themselves suffered from frostbite. 1 AGH admitted some 90,298 patients.


On Saturday 17 February 1917, Hilda woke and prepared to go on duty. She felt an intense pain in her head and was violently sick. Hilda fell into bed and the medical officer was called. At 4pm she became unconscious and died two hours later. Cause of death was written as 'meningitis' – Hilda was 33. Staff Sister Hilda Mary Knox was given a full military funeral. Six AMC non-commissioned officers carried the coffin; three Medical Officers acted as pall bearers. Every Matron in Rouen attended, as well as every member of the nursing staff from No.1 A.G.H who could be spared walked behind and dropped flowers on the coffin and grave – 'the flowers were most beautiful' wrote Matron-in-Chief AANS, E.A. Conyers.
The death of Sister H.M Knox was a grief to me; she was one of our best nurses and beloved by all … She rests in St Sever Cemetery quite near to No.1 Aust. Gen. Hospital.

In The Argus on 26 February 1917, a letter to the editor recalled that Sister Knox:
Worked with untiring zeal … her nature was retiring an unassuming; she was efficient and kind and gentle. Her death will cause much sorrow to a large circle of friends.

A former patient, an officer of the 4th Light Horse wrote 'We fellows used to lie and watch the door for her to come in … every man loved her'. Another soldier wrote, 'I take off my hat when the name of Sister Knox is mentioned'. Twenty-six members of the AANS died during WW1.

The people of Benalla were shocked. There was not a better respected family. James dealt with so many residents as Secretary of Benalla Shire. Her death was particularly poignant not only because of her caring and selfless nature but because she had returned on leave just the previous year and mixed amongst them. Benalla's The Holy Trinity Church was crowded on Sunday 4 March 1917. The pulpit was draped in black and purple and in front, a striking red cross made of scarlet geraniums on white background. At the chancel entrance hung the Union Jack and Australian flag. A large wreath was attached to the rails in front of the choir, one in which Hilda had once sung. Choristers sang hymns she had shared and a soprano intoned 'He wipes the Tear from every Eye'. The organist ensured the solemnity of the occasion was further observed with the playing of Chopin's 'Funeral March' and 'Dead March in Saul'.

From the pulpit the clergyman declared:
Few names stand higher on the role of heroines of mercy than that of the beloved Sister Hilda Knox because of her tender, gracious, beautiful, and loving character; she added a glory to womanhood which can never fade.
James and Mary Knox were a religious couple, weekly attendees, and supporters of their church. They raised their children to be compassionate adults but two had been cruelly lost in a brutal war. There had been a great many words spoken about the war being 'for the greater good', 'for nation and empire'. They had embraced those phrases but now they struggled with the words and sentiment – part of their futures had been lost. Gordon was buried in Egypt and Hilda was buried in France, graves so very far away and even more cruelly, so far from each other.

Corporal Francis Knox (942) was attached to the 3rd Light Horse Field Ambulance and came home in August 1917 as a nursing orderly onboard H.T. Port Sydney, one of the many ships returning with grievously wounded Australians. Frank was traumatised and himself physically unwell. He was the eldest son yet had been powerless to protect his sister and younger brother. For too long he had dealt firsthand with the aftermath of front-line combat. James and Mary were deeply concerned by Frank's emotional wellbeing and agreed to a plea to military authorities to have their son spared from a return to war. 'His health is so broken, that his mother feels assured if he returns abroad, she will never see him again'. The military agreed and Frank was discharged.

James Baldock Knox (14312) had embarked for active service per Ayrshire with the Army Medical Corps on 3 July 1916. News of Hilda's death reached him in England – too hard to believe – and James was admitted 'sick' to hospital. Two months later James was on his way to France where Hilda was now buried. The war was grinding to an end when he left Europe in July 1919 onboard HT Prinz Ludwig helping care for injured young Australians whose futures would be much different than when they had embarked to much naïve imperialist fanfare. The armistice came the week after his ship arrived in Melbourne, the news wonderful, but for the family Knox there seemed little reason to celebrate.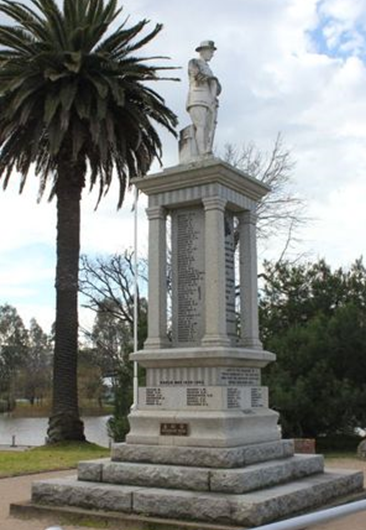 The Benalla community erected a memorial, to stand sentry at the bridge over the Broken River. Above the words: 'For King and Country and the Cause of Right' were engraved 133 names, including those of Hilda and Gordon Knox. Their mother took little comfort in the inscription. Her health deteriorated, and Mary Knox he died on 21 June 1924 aged 60.
 

The Independent (Benalla), 11 June 1915.
Kyneton Guardian, 17 July 1915.
The Independent (Benalla), 7 December 1915.
The Independent (Benalla), 14 April 1916.
The Independent (Benalla), 2 March 1917.
Tungamah and Lake Express and St James Gazette, 18 January 1917.
Butler, A.G. The official history of the Australian Army Medical Service in the war of 1914-18, Australian War Memorial, Vol.2, p.780.
3DRL/0251 item 52, Australian War Memorial, Canberra.
The Independent (Benalla), 9 March 1917.
Weekly Times, 17 March 1917.
The Independent (Benalla), 11 May 1917.
James Baldock Knox died two years later, aged 80.