The words from 'I am Woman' bounced around in my head. They had inspired me to stand up and have an opinion. Yes, I am one of the older generation, and yes, I had adolescent memories of being ignored because I was a girl. This might be hard to believe by later generations, but it is an unfortunate truth of women who matured during the 1960s. So, that song, those words which a slender Australian singer proudly sounded out across the airways, really meant something. As did her words: 'And I thank God because she makes everything possible' included in her acceptance speech in receiving a Grammy Award in 1973 – the first Australian to achieve this.
It was hard to believe that I now spoke with Helen Reddy regularly and was featuring her in my book Inspiring Australian Women. There is just something special in meeting your heroes, or as singer Wynonna preferred, 'sheroes'. Helen put anyone at ease, after that initial awkwardness. She knew who she was and just how much she had achieved and if she knew you appreciated that, it was a great start. After that I was the one interviewing her and five other amazing Australians and writing the book.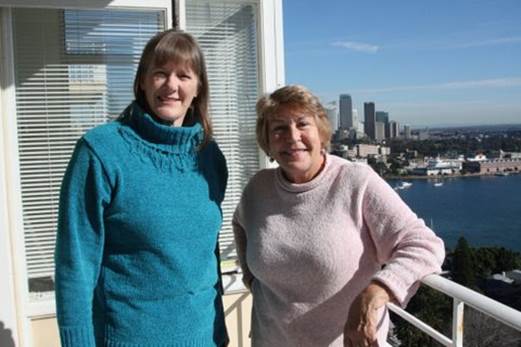 Helen was renting a small harbourside unit in Sydney. It was situated on the northern shores of the beautiful harbour and she always appreciated the views. Living not far away was her sister Toni Lamond, another great entertainer. They were part of Lamond/Reddy showbusiness family. Mother Stella appeared on stage and television screen in the iconic Australian series Bellbird as Mrs Wilson.
Helen Reddy could only be described as quite a lady! After an abusive marriage and with an infant daughter in tow, she ventured to New York as her prize in a singing competition. It was the age of male groups, so the prize did not lead to the promised music contract. Years of club singing barely got them by. It was sheer hard work and that velvet voice that enabled her to finally achieve the fame and the recognition she deserved.
Helen was married and divorced three times. I ask about the marriages and the reply: 'They had their ten minutes of fame, I don't need to elaborate'. Discussion surrounding her Australian heritage – long and splendid, flowed freely.
What do you ask someone who at her height was the talk of Hollywood and the music industry? What do you ask someone who gave Prince Charles a birthday party when he visited? Who knew everyone in show business by their first name? who sang with Frank Sinatra and all the greats, on her own television show, and certainly not forgetting Kermit the frog?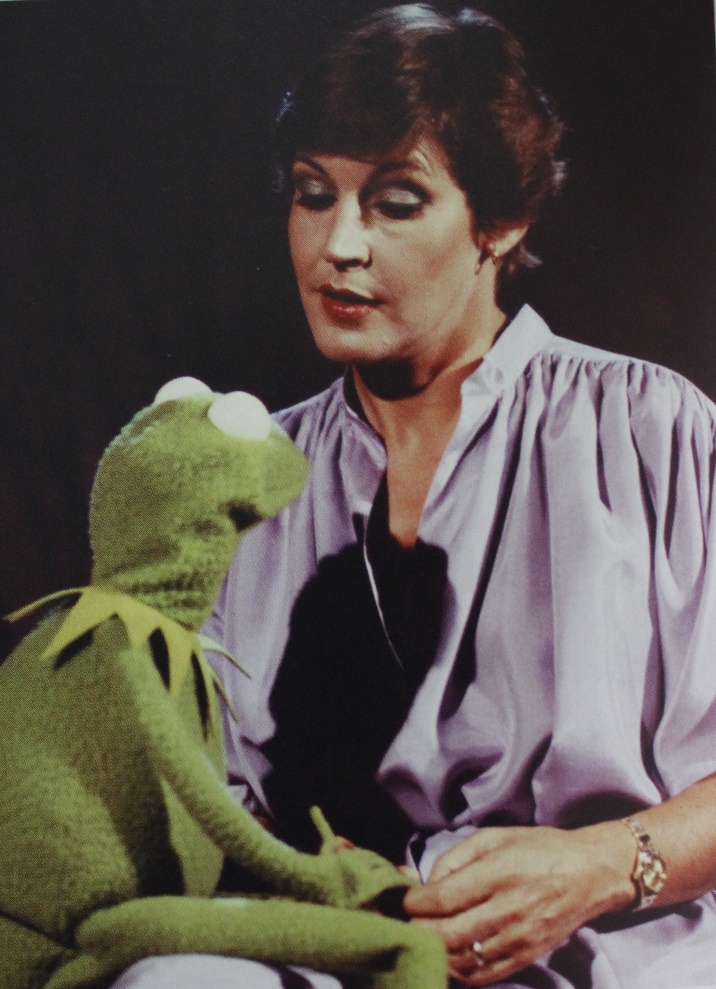 It was interesting that this amazing woman preferred to speak of the present than the past, who preferred to discuss politics, particularly United States politics, than show business. We had discussions about President Obama, Hillary Clinton, about the 9/11 tragedy. She never lost her passion for social justice and equal rights. As she had inspired me as a teenager, she inspired me now as a mature woman.
I ventured to Sydney to see the stage production of Priscilla: Queen of the Desert – it was terrific and I rang Helen the next day to praise the lead, – her nephew Tony Sheldon. I was asked why I wasn't, in her unit having afternoon tea. I did as I was told and the time flew in deep discussion about yes, social justice.
Artist Margaret Hadfield was to paint her portrait for inclusion in the book but also as an entry for The Archibald Art Prize. In her harbour apartment Helen and I gossiped and laughed as Margaret applied paint to canvas. Returning to Canberra the painter completed the portrait and sent an image to Helen.
Helen suffered from Addison's Disease and needed daily cortisone. The last dose had been poor quality and left her slightly puffy in appearance.
I was having an enjoyable walk around Lake Burley Griffin when I received a phone call from an unhappy Helen Reddy. 'She has made me look like Bert Newton'. I returned: 'Helen why are you calling me? Margaret is the artist'. 'I am not speaking to her right now'. I agreed to bring the artist, the canvas, to Sydney. Margaret does not paint small paintings and it was a juggling act to get us and the painting in the small lift and through Helen's doorway. She was happy to see us and wearing a colourful scarf given to her by Tony Curtis in honour of the actor who had just died.
Again, I sat on the couch with Helen while the artist painted away. As we were about to leave Helen viewed the portrait. 'I love it', she exclaimed. I commented, 'but she has made you look ten years younger'. I received a thump on the arm as Helen exclaimed, 'that is why I like it'. Yes even 'sheroes' prefer not to look their age. The artist was never happy with that portrait – that's creative people for you.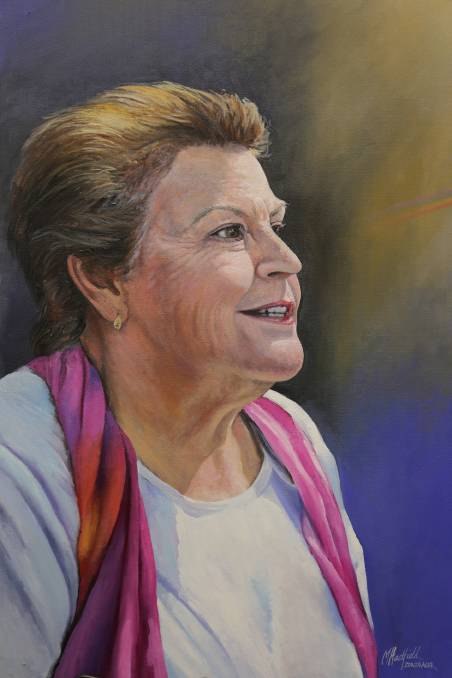 The next phone call I received from Helen was to tell me she was leaving to live again in California, closer to her two children Traci and Jordan and very loved granddaughter Lucy. We decided on another catch-up. I would come to Sydney and have someone film the interview and could we combine the interview with another one of the other five inspiring women, Geraldine Cox?
'Who is Geraldine Cox?' But no, Helen had no concerns with my collecting her, and taking her to Sydney Botanical Gardens for lunch and a filmed interview. I then rang Geraldine who was on a Sydney fund-raiser I repeated the same invitation. 'Oh my God, you know Helen Reddy! Could I get her autograph?' This from a woman who cared for 400 children in Sunrise Villages in Cambodia.
The ladies were initially ill at ease, Geraldine through meeting a 'shero' and Helen, well Helen was just Helen with that initial Helenness. Discussion over lunch slowly thawed through humour. Geraldine: 'I was married to the only alcoholic Muslin'. Helen: 'I was married to a Catholic, Protestant and a Jew'. Points to Helen. Geraldine: 'I am going to put myself on RSVP. It will go something like, '67-year-old woman, double mastectomy, no material acquisitions. 400 children, looking for understanding man'. That was definitely an ice-breaker.
My time in the Botanical Gardens with these two amazing women was a joy, though I completely lost control of the interview and got the giggles as these two, now calling each other girlfriend, commented on how the new bride was going to be sorry – and on all manner of other amusing insights.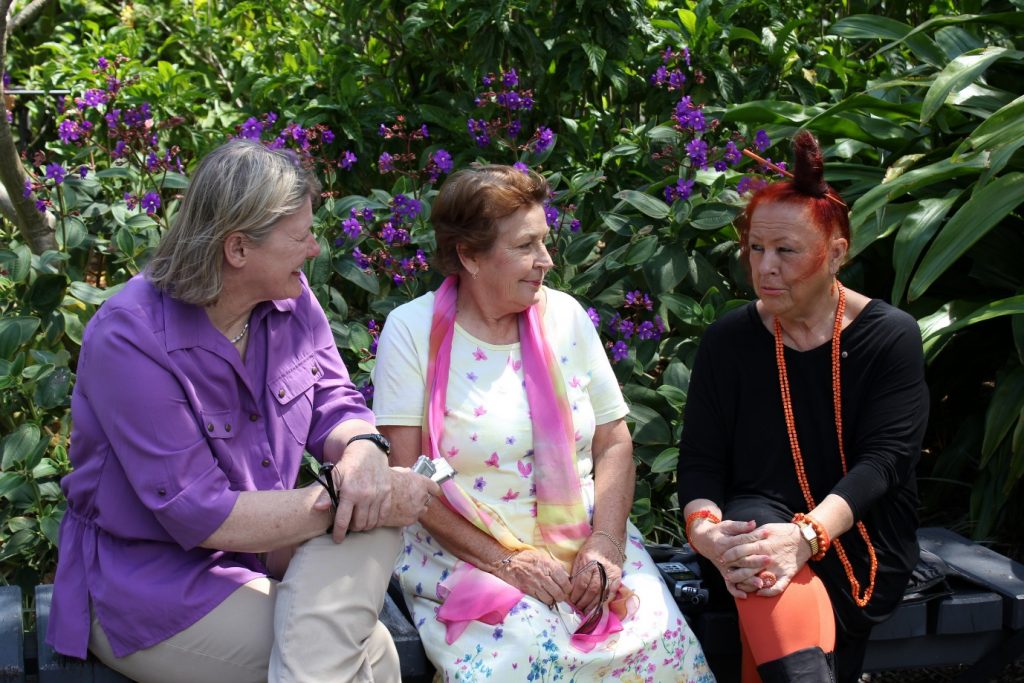 Helen gave farewell concerts in 2013. I regaled in 'that voice' and 'those words' at her Sydney performance. Admitted to backstage Helen was luminous and very welcoming. My book Inspiring Australian Women was published and a chapter in both our lives had concluded.
Her return to the USA was marred by ill health and dementia which saw her spend her last years in a Los Angeles celebrity nursing home. I shed tears on
29 September 2020 when news came that she had died, aged 78. Australia had lost an icon, humanity had lost a champion, but the words encapsulated in 'I am Woman' will continue to resonate with future generations. Thank You Helen.