(25 April 1918–14 April 1993)
Joan Streeter was born on 25 April 1918 in the Melbourne suburb of Hawthorn. She entered the Women's Royal Australian Naval Service (WRANS) as an Assistant Wran Writer WR625) on 25 January 1943. Following her training at HMAS Cerberus, Victoria and qualifying as a Writer on 26 April 1943, she was chosen for Officer Training. On 25 May 1943 Streeter was promoted to Third Officer (L1126) on 26 May 1943 and posted to Sydney's HMAS Penguin. She volunteered for overseas service but the WRANS was the most restricted of the three World War II Australian Women's Auxiliary Services.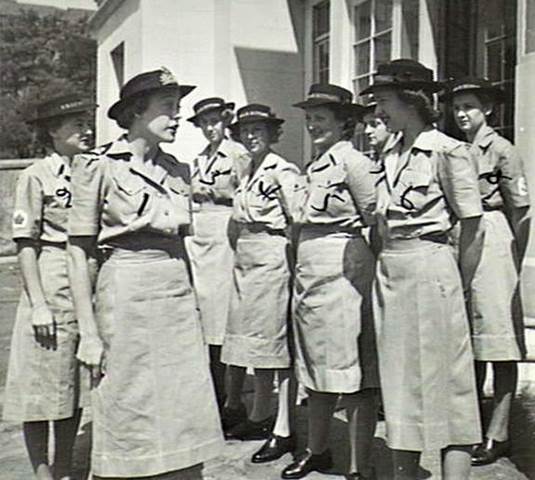 It had taken the largest threat the nation had faced before the Australian Defence Forces (ADF) were opened to women volunteers. The WRANS was the last auxiliary service formed, on 28 April 1942. Women volunteers, was fundamentally alien to the Royal Australian Navy's (RAN) tradition of seafaring and naval warfare. The development of the WRANS was inhibited by the very conservative attitudes of senior RAN administrators. Regardless of their willingness to service and the very professional way in which members undertook their duties, the WRANS was the smallest auxiliary – at its peak in March 1944 WRANS complement was just 2,338 Wrans and 175 WRANS officers.[i] WRANS personnel were allowed to enter fewer service occupations than members of the Australian Women's Army Corps and Women's Australian Auxiliary Air Force, given fewer opportunities for transfer and not permitted to serve overseas.[ii] This left a lasting impression on those who served and particularly on Joan Streeter. She was promoted to Second Officer on 1 July 1945 and served at Executive Officer (XO) of HMAS Kurunda, Cairns between 23 May 1944 and 17 January 1945 before returning to Sydney as XO HMAS Kuttabul and HMAS Rushcutter. Joan Streeter married Squadron Leader Alan Willis Streeter (RAAF 252850). The Women's Auxiliary Services were disbanded in 1946.
---
[i] . Spurling, K. 'Willing volunteers, resisting society, reluctant Navy', Stevens, D (ed.) The Royal Australian Navy in World War II, Allen&Unwin, 1996, p. 126.
[ii] . Ibid., p.134.
With the outbreak of the Korean War the Australian military struggled to find sufficient male volunteers and only then did it concede women should again serve. The WRANS was reformed in 1951 under the charge of Chief Officer Blair Bowden who was then replaced by successive Women's Royal Navy (WRENS) exchange officers. In 1954 Joan Streeter, residing in Toronto, Canada, where she was employed as a company secretary and insurance officer manager, was offered a four year re-appointment. She disembarked in Sydney on 28 June 1954 and assumed the rank of Second Officer and the position of Unit Officer WRANS (UOW) HMAS Harman, outside Canberra. Streeter undertook many postings and administrative duties, including UOW HMAS Cerberus and was promoted to First Officer in 1955.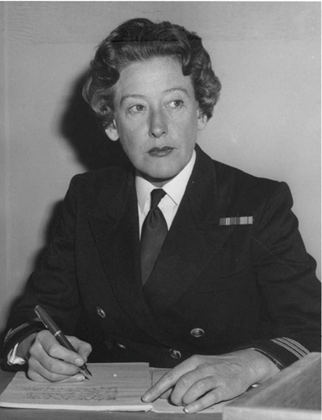 The 1950s and 1960s was a very conservative era within Australia and this was never better evidenced that within the halls of Navy Office. As during the war there was a great reluctance on the part of senior RAN administrators to permit the WRANS to expand in numbers and career opportunities. In 1958 Joan Streeter was promoted to Chief Officer and appointed Director WRANS (DWRANS). Streeter proved the ideal person for the role, navigating the sea of conservatism with grace, careful not to appear confrontational but equally determined that the WRANS must expand. This was a time requests from some senior RAN officers for a Wran Secretary came with the clause 'she must be attractive'.[i] To those who served Streeter was admired, genial but firm. 'She ran the WRANS as if she was the headmistress of an elite Finishing School'.[ii] With supreme grace she patiently exacted improvements – from permission for Wrans performing certain duties to wear bell-bottom trousers, to more women volunteers being allowed.[iii] It was a hard battle. In 1952, 302 served and by 1968 this number had expanded to only 618 and by 1973, 800. In 1967 she commented 'we have been accepted far more than we were in the early years or during the war'.[iv] The Australian Women's Weekly described her as 'tall, slim, vivacious' someone who keenly believed 'the navy is an excellent career for girls' because 'it gives them discipline in its widest sense, which I think is very necessary for teenagers today. And it provides companionship and the chance to do a worthwhile job'.[v]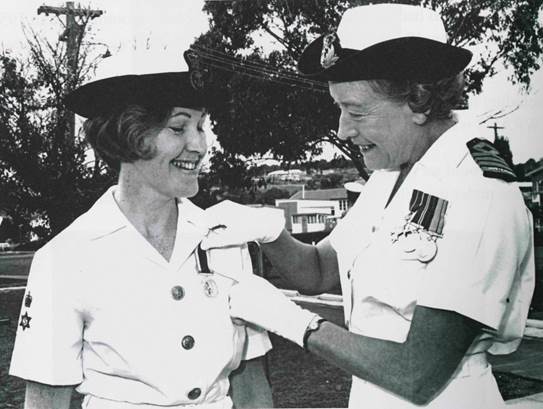 In 1964 she was awarded an OBE (military section) and in July 1968 she was the first Australian promoted to the rank of Superintendent for which 'she was greatly honoured' because it was a 'recognition of the service generally' and that it 'would be good for morale'.[i] It was a sign that the times were definitely changing for women in the Australian navy when on 3 April 1968 their Director was finally given a permanent commission and was the first woman to wear the rank of Superintendent. Even more significant was that this was altered to Captain as the RAN gradually accepted the full integration of women volunteers and the separate WRANS ranks were dispensed with. Joan Streeter served as DWRANS for 15 years until retirement in 1973. She continued to show a keen interest in 'her girls' and encourage WRANS development until her death from pneumonia on 14 April 1993.
For those of us who remember her, her very presence struck fear into our hearts, but that was because she was Director WRANS. She was however warm and approachable and respected for the battles she fought skilfully in the halls of Defence, an iron fist in a velvet glove when it came to 'her girls'.
---
[i] . The Canberra Times, 28 July 1968.