During August and September 2015 Australian Army Sapper Curtis McGrath, added more medals to the cabinet. At the ICF Canoe Sprint & Paracanoe World Championships in Milan, Italy, in late August he defended the World VL2 200m title he won in Moscow in 2014. Even more remarkable, he won silver in the World KL2 200m and secured a billet for Australia in the 2016 Rio Paralympics. Curtis only took up kayaking in 2015, after the VL2 200m was dropped from the Rio Paralympics programme. During the first week in September 2015 there was another silver medal, in a competition held at the canoe/kayak Olympic course in Rio de Janeiro.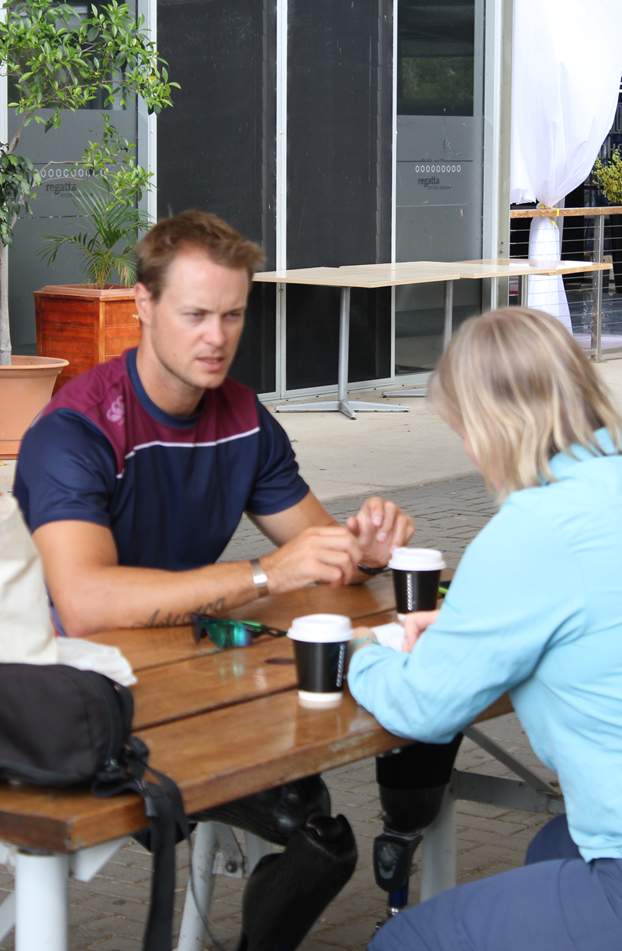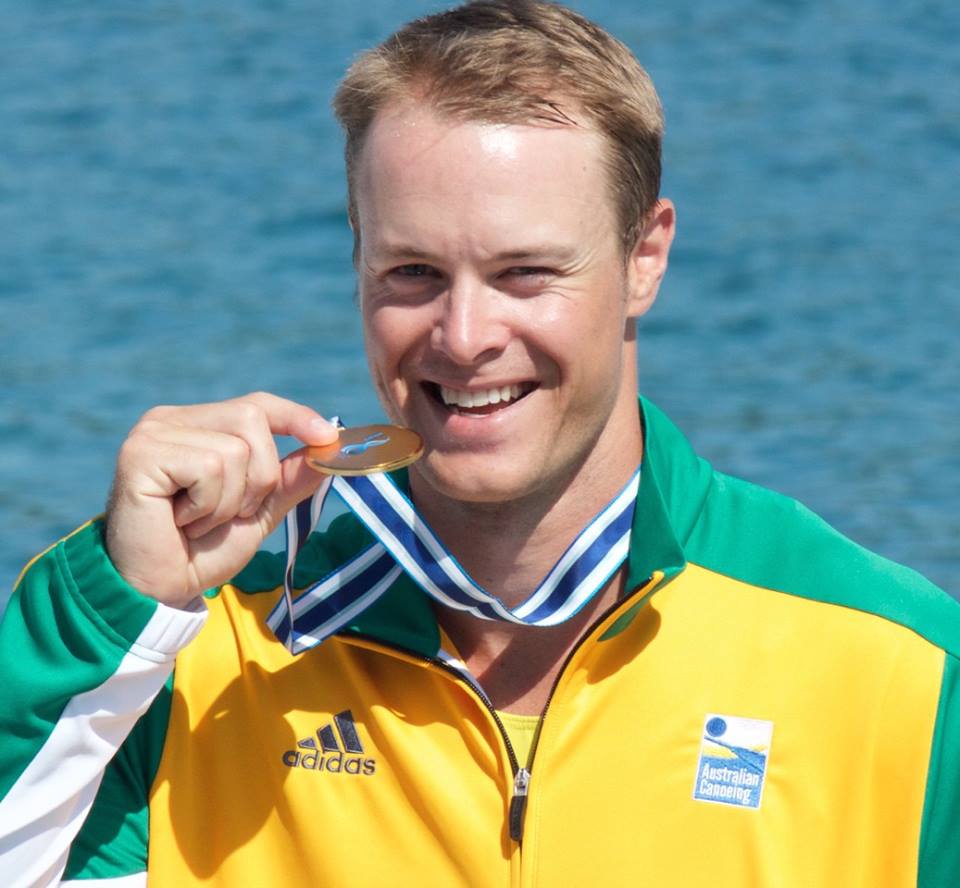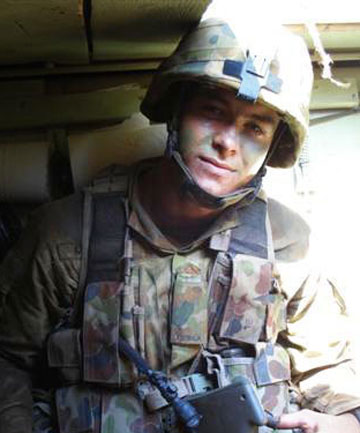 I first met Curtis in 2015 at the Australian Para Kayak and Canoe Championships. He graciously agreed to an interview between events. He prefers not to talk about himself. When you spend time with Curtis you realize his words are measured and you cannot help but be aware that this soldier has seen more, been subjected to more than all but very few of us can imagine, let alone survive. His smile is easy and generous as Curtis admits to confused loyalties. He was born in 1988 in New Zealand and then his family relocated to Australia. These juxtaposed allegiances were no better personified than within the Australian and New Zealand Army Corps (ANZAC), so in 2006, at 18, Curtis enlisted as a Australian Army Combat Engineer. An accomplished sportsman Curtis excelled at the physical dimension of his chosen career. As for those divided loyalties, his mates called him 'Kiwi'; on his right arm the Maori name for New Zealand, 'Aotearoa'; but there was also the map of Australia tattooed on his back and the words 'For Honour, For Country, For brother, For ANZACs.'
The slogan served him well and as a member of 2 Combat Engineer Regiment in support of the 8th/9th Battalion, Royal Australian Regiment, Curtis served with the Timor-Leste Battle Group and then in Afghanistan in support of the 6th Battalion, Royal Australian Regiment, Battle Group Mentoring Task Force 1 (MTF1). Exactly half way through their six month deployment, his unit was on a five day clearance of a hillside unoccupied police checkpoint in Khas Urozgan District, Uruzgan Province. Curtis was experienced and competent. 'You can't check everything, but you have to check what you think in your threat assessment is an IED (improvised explosive device), but yep I missed one'.
Curtis doesn't remember the blast, just opening his eyes, and how dark it was, lots of dust falling and it was strangely quiet – his ear drums were perforated. 'I looked down at my legs and they're gone … it looked like an octopus but red'. It was then the pain hit with an almighty whack. Curtis was the advance first-aider in his unit and his training took over. He needed to stop the bleeding of his right leg and his right hand went deep into a bloody cavity on the back of his thigh. He looked over at his left leg and there was blood 'spraying everywhere'. He was having trouble sitting. He couldn't understand why he couldn't apply the tourniquet, not realising that his left wrist and hand were a shattered mess of bone and ligaments, and burns extending from his fingers up his left forearm. 'I thought "I am not going to die here, Afghanistan is not where you want to die"'.
Amazingly he remained calm enough to instruct fellow soldiers. 'I am going into shock, losing a lot of blood get an intravenous line in quick, hurry up, hurry up'. They too were desperately struggling with the situation. Curtis told them he needed morphine. 'They asked how much? And where do we put it?' His answer was probably a little brusque and colourful but it did involve the breaking the vial, filling the syringe and stabbing him with it – no, he didn't care where. The rescue chopper was on its way but would take 45 minutes, and 45 minutes back, 'it seemed to take forever, and that's when I thought I was going to die … it's the waiting that kills you'. It was common knowledge that there was a golden hour – an hour to get a seriously wounded soldier to hospital otherwise survival chances were minimal. The world went into slow motion and the surreal. A fellow soldier who had been walking behind him on patrol knelt down, gripped his hand and said: 'You're not going to die!' Curtis realized his mate had blood on his face, Curtis's blood. Curtis reached up to wipe it off, 'It wouldn't come off. That is something that will probably stay with me forever'. As he was stretchered to the helicopter Curtis heard himself say 'you will see me in the Paralympics but you guys won't see me in the green and gold, but black and white'. The rapid retort from unit members still makes him smile, 'Well we'll drop you here'.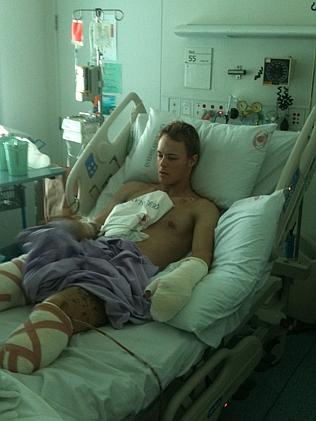 Memory of the next days and weeks are fragmented, in and out of consciousness and terrible pain. Military doctors amputated his left leg below the knee and his right leg at the knee. He was loaded on a large US medical evacuation aircraft and flown to a US military hospital in Germany, the only non-American in a sea of broken, damaged bodies and attentive, dedicated medical personnel. It was sobering, 'I definitely wasn't the worst person on that plane'. Stabilised, he was flown back to an Australian public hospital. The smile creases his face again as he remembers being asked by hospital admission staff: 'Was I in a health fund and was this a workplace injury?'. Another hospital and weeks of rehabilitation surrounded by military veterans of all ages, this helped and inspired.
Goals were set. Firstly, he was determined to walk again by the time his unit returned from the six month deployment. There were many operations, medical procedures and hours and hours of rigorous physiotherapy. The first attempts to walk on his prostheses were simply awful due to severe nerve end pain. More procedures and adjustments ensued. Curtis was around 196 cm when he left for Afghanistan, he is now 192 cm, 'it is easier'. With two fellow soldiers helping him balance Sapper Curtis McGrath walked during that welcome back parade.

Next goal was to become a Paralympian. Just eight months after picking up a paddle, Curtis won the V1 200 canoe at the 2014 World Championships – wearing green and gold. According to him credit belongs to others, particularly the Australian Army for its continued support – he doesn't mention his own resolve. 'A challenge comes along in life and you just have to accept it and get on with it'.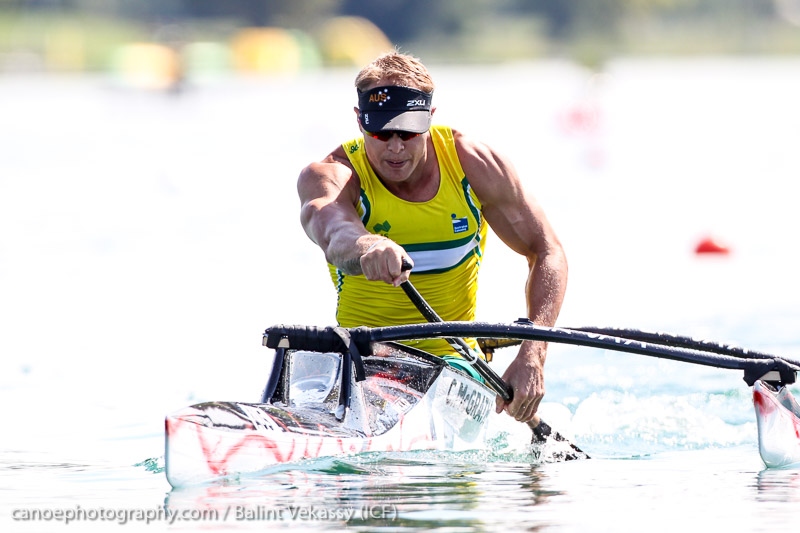 In 2015 Canberra artist, Margaret Hadfield, persuaded this soldier to be subject in her 1m x 1½m painting titled, 'Anzac courage'. Curtis is very uncomfortable if anyone tries to apply the title 'hero'. 'The word hero should be saved for really, really significant people … I was just trying to make Afghanistan a better place'. How does he feel about Afghanistan? There is a slight shake of the head and frown. Australian Defence Force veterans and Post Traumatic Stress Disorder is of concern – more and faster assistance, can always be provided to military veterans. Curtis undertook an arduous 1,000km paddle from Sydney to Queensland to raise funds for the Mates4Mates organization, a charity that provides support for injured ex-servicemen and women, one he hopes more Australians will support.
'I miss my legs but I am still alive'. If another soldier had stood on the IED, 'it would have broken my heart', because it was his job to clear it – Curtis McGrath just wishes he had not cleared it exactly the way he did. 'I miss my legs but I prefer to concentrate on the opportunities that remain'. And concentrate he has with stoic perseverance few of us have.
At the 2017 ICF Canoe Sprint World Championships in Račice, Czech Republic, McGrath won gold medals in Men's KL2 200m and VL2 200m. The following year he won gold medals in the Men's KL2 200m and Men's VL3 200m at the 2018 ICF Canoe Sprint World Championships in Montemor-o-Velho, Portugal. It was his eighth world championship gold medal. At the 2019 ICF Canoe Sprint World Championships in Szeged, Hungary, Curtis McGrath won gold medals in the Men's KL2 200m and Men's VL3 200m.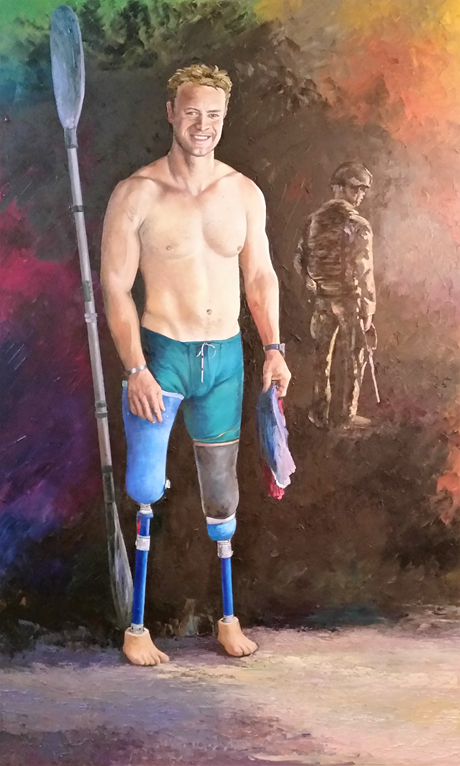 As for the painting by Margaret Hadfield. She contacted Curtis to tell him she was entering it in the Archibald Art Prize. Curtis replied: 'I will keep all my fingers and toes crossed'.