It was a Midshipmen and Cadet Mess Dinner at the Australian Defence Force Academy in the late 1990s. I was teaching History and Strategic Studies at UNSW at ADFA so was asked to attend as a guest with my husband. These mess dinners were to instruct aspiring Australian Defence Force officers in correct protocol for the official dinners which they would be required to host. They were often awkward affairs at which the young consumed more alcohol than they really should – but perhaps that was true of older generations at mess dinners. For guests, especially for those of us who had attended many official ADF mess dinners these were quite amusing affairs but, the food was very good, uncharacteristically good considering everyday food served at the ADFA mess.
When greeted by my assigned host, an incredibly young RAAF Cadet officer, he looked to my husband when he said: 'Welcome Dr Spurling'. My husband smiled and nodded to me, 'She is the Dr Spurling, I am just the husband'. Our host turned a shade of crimson. His was a fair error given how few women will allowed to teach in the hallowed UNSW halls though perhaps he should have looked up the university staff profiles beforehand. The mistake made by another young host however was certainly reprehensible. During a break between courses the army Cadet was complained that he was hosting 'some old lady'. She apparently was quietly spoken and though she showed a great interest in his life, she spoke little of her own and, he, saw no reason to ask. When I queried 'which old lady' he pointed her out. She had remained sitting because her legs weren't the best anymore. 'Her name is Vivian Statham'. He was not a history student but that night he received a history lesson and an appreciation of just how privileged he was to host such an incredible and inspiring woman – I would happily have changed places with him.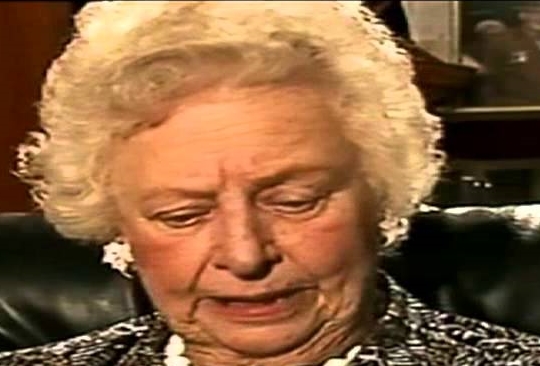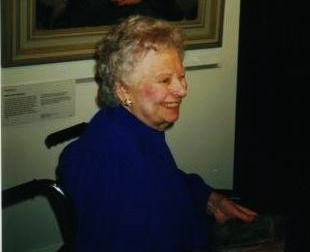 Vivian Statham, AO, MBE, ARRC, ED, FRCNA, was born Vivian Bullwinkel in May 1941 in Kapunda, South Australia. She enlisted at 25 in the Australian Military Forces, becoming number VFX61330, whilst ensuring it was acknowledged on the 'Attestation Form' that she already served as Staff Nurse V12997 with the Australian Army Nursing Service (A.A.N.S). Australia had been caught napping and Vivian found herself a member of the newly raised 2/13th Australian General Hospital contingent, shipped to Malaya on the second last day of August 1941.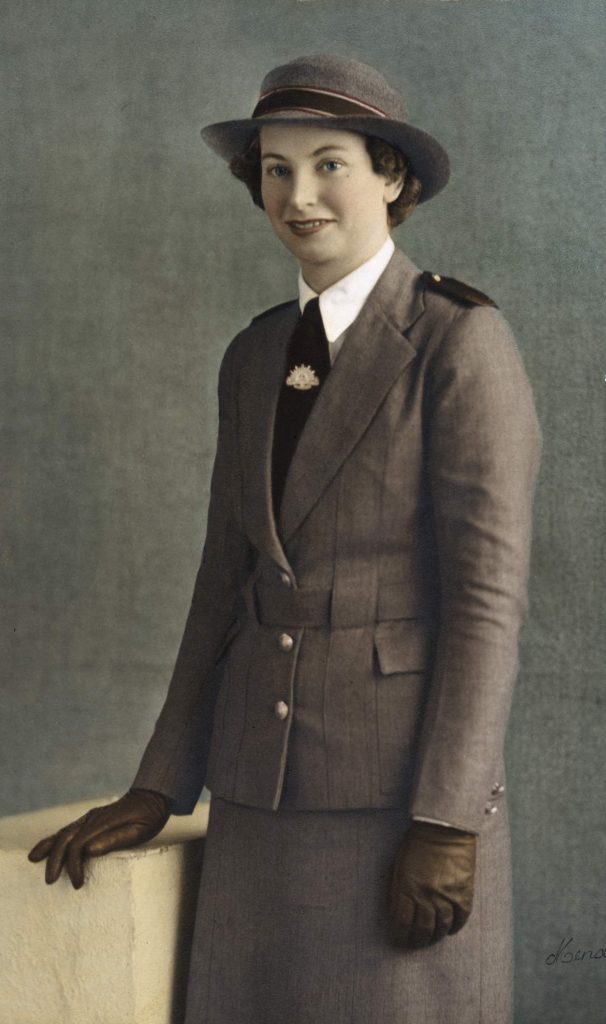 It was a tumultuous time in the Far East with Japanese Forces advancing with surprising speed through one British colony to another, one Asian nation after another. Sister Bullwinkle and other hospital staff spent little time in Malaya before being transferred to Singapore to establish the 2/4th Casualty Clearance Station. During the next chaotic months there was barely any time to sleep or eat as Vivian switched between the 2/4th and 13th General Hospital. Singapore was under attack, and she wrote in her diary:
Place just a mass of flames along the waterfront. Island burning on the other side a terrible sight.
On 12 February 1942 too late were the 65 nurses, wounded men and last civilians evacuated in the coastal steamer Vyner Brooke. Two days later Japanese bombers attacked and sank the ship. They thought they had survived when they reached the shores of Banka Island but faced a fate worse than drowning.
With so many wounded it was decided to surrender to the occupying Japanese forces. The men in the party were quickly moved away and shot or bayoneted. Vivian Bullwinkel and her 21 nurse compatriots were ordered to form a line and walk into the ocean. The wounded Sisters, Clare Halligan, Rosetta Wight, and Flo Casson were assisted by the others to move down the beach. Vivian Bullwinkel was on the far left with her friend Alma Beard, a 28-year-old West Australian. Calling Vivian by her nickname, Alma leaned close and said:
Bully, there are two things I've always hated in my life, the Japanese, and the sea, and today I've ended up with both.
Vivian did not answer, lost in her own thoughts as she looked out to the horizon.
I was thinking "How can something as dirty and evil as this be happening in a place that is so beautiful?"
The nurses waded into the water and the killing began. As the machine bullets sprayed the Australians fell. The oldest, Matron Irene Drummond, was still short of the water's edge when she was hit and fell forward into the sand losing her glasses. As she reached for them, she was hit again.
Vivian glanced sideways before a bullet smashed like a sledgehammer into her back. She fell into the water as everything went black. The Japanese Commanding Officer Captain Orita Masaru then ordered his soldiers to wade into the sea and bayonet any nurse who appeared to be still breathing.
They thought Vivian was dead.
I was towards the end of the line and the bullet that hit me struck me at the waist and just went straight through.
The bullet had passed through her body, just below her ribs. Another body had fallen over her own. When she revived, she started to vomit salt water. A voice inside her head cautioned her to remain silent. Waves washed her limp body back into the sand and she remained, face down and motionless. When she finally raised her head not only had the soldiers disappeared, but the bodies of her fellow nurses had floated out on the current. She was alone.
Unsteadily she made her way into the jungle, found a small dark cave and collapsed. She dragged herself into the jungle. It was another day before her raving thirst caused her to emerge. Vivian found a wounded English sailor. Over the next days, she returned to the beach in search of anything useful. She avoided Japanese patrols and entered a village, returning with some food and water and continued to treat the sailor as best she could without medical supplies. By 28 February they decided they had no alternative but risk surrendering again.
In October 1943 her widowed mother Eva received an officious letter informing her that Staff Nurse Vivian Bullwinkel was no longer missing but a Prisoner-of-war interned in Sumatra. Eva was relieved Vivian was safe, but what did, being a POW mean? For the tall slender Australian nurse life over the ensuing years was shocking. On the only postcard she was allowed to write whilst a POW she merely wrote the words: 'My roving spirit has been somewhat checked.'
Prisoners of the Japanese were treated appallingly. Forced to work, thousands died from disease and malnutrition. Australian nurse, Captain Ellen Hannah, survived the sinking of the Vyner Brooke described how they were moved from one appalling camp to another each even more basic and less sanitary than the last, 'We were the scum of the scum in the Nip's eyes … we suffered every form of humiliation'. Unlike the civilian women, the Australian nurses had nothing but what they stood up in, nothing to barter with. 'We had no food'. A good day was when they secured one egg between six.
Allied forces were shocked when they recovered Vivian and fellow POWs from all parts of Asia from September 1945. Onboard hospital ships staff were gentle with the emaciated diseased Australians. They had left Australia, young and vibrant and now they were mere shadows of their former selves, but as they said frequently, they, were alive and thousands, were not. Of the 65 Australian nurses onboard Vyner Brooke only 24 returned to Australia.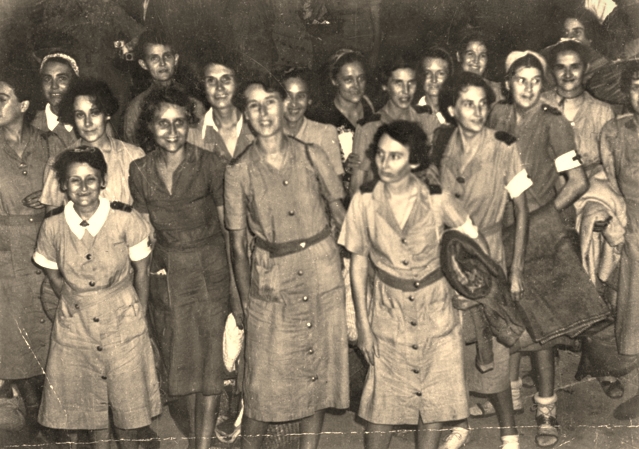 They were anxious to return to Australia but needed to be carefully nurtured back to health. Not until February was Vivian allowed to board a ship bound for Australia and although she thought she looked fine, the expressions on the faces of her mother and sister belayed a different opinion.
Captain Bullwinkel was enjoying the familiar sights, smells, and comfort of home when she was requested to embark yet again for Asia in October 1946. The thought filled her with horror, she was being sent to Japan, but she owed it to her fellow nurses who were abused and machinegunned on the Banka Island beach, she needed to testify at the Japanese War Criminal Trials in Tokyo. There was too much that needed to be said and too much to hear over the ensuing months. Vivian declined a request to remain with the British Commonwealth Occupational Force in Japan and was grateful to disembark in Sydney in February 1947. The following month Captain Vivian Bullwinkel was awarded the Associate of Royal Red Cross. She needed to disappear into normal life, whatever that was now, to continue nursing, not to have to speak of the unspeakable.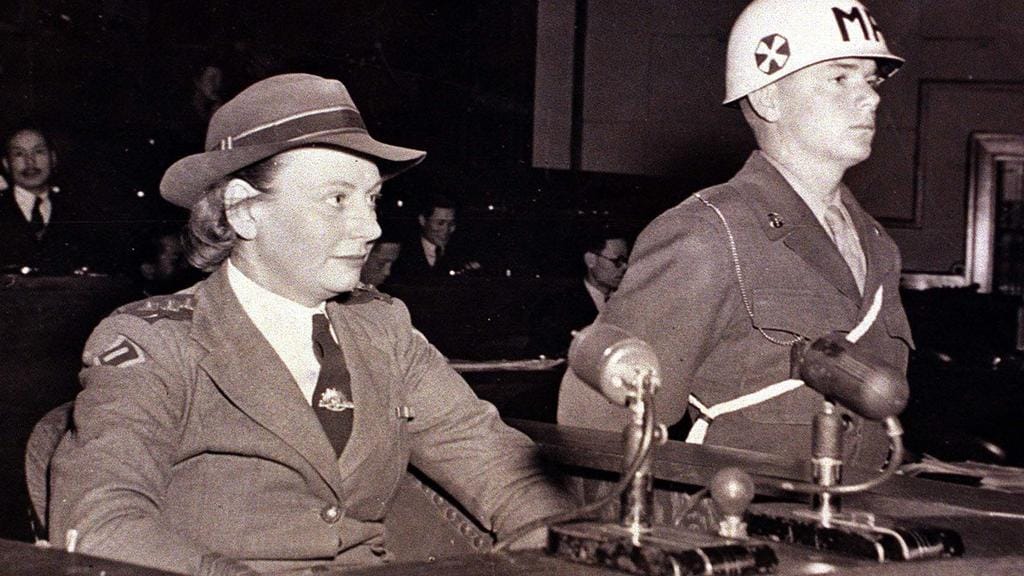 In 1955 Vivian Bullwinkel was nursing at Victoria's Repatriation General Hospital Hieldelberg. It is extremely unlikely that any of the patients she cared for had any idea of what this modest gentle woman had been through. She had served in the A.A.N.S from 20 May 1941 to 31 August 1941; the A.A.N.S (AIF) from 1September 1941 to 30 September 1947. Her overseas service was listed as Singapore 2 September 1941 to 24 October 1945 and Japan 15 October 1946 to 8 February 1947. She had attained yet another official number, F31029 and the name of her unit was now 3 Royal Australian Army Nursing Corps. There was also that chapter about surviving a sinking ship, being machine-gunned on an Indonesian beach and being a Japanese POW. None of this made any difference, because the duties were the same, treating those scarred by war as best she could.
By 1963 she was Lieutenant Colonel Bullwinkel and attached to the Infectious Disease Hospital in the Victorian Hospital at Fairfield. While at Fairfield she orchestrated an evacuation of Vietnamese war orphans from Saigon and organised their convalescence before their adoption by Australian families. She retired in 1977 as Director of Nursing at Fairfield having been awarded the Associate of Royal Red Cross (ARRC), the Florence Nightingale Medal and made a Member of the British Empire (MBE).
Immediately following her retirement, she married Colonel Frank Statham, OBE, ED. Retirement meant only from nursing, and she worked tirelessly for the Red Cross, ex-service, nursing and other voluntary organisations. She was also the first woman Trustee of the Australian War Memorial. In 1992 Vivian undertook the difficult journey back to Banka Island. This she needed to undertake to ensure there would be a memorial for the 41 nurses who never returned to Australia. She stood alone on Radji Beach thinking of those vibrant nurses, her friends.
The memorial was dedicated the following year. and in October 1999 her frail figure illuminated the dedication ceremony of the Australian Service Nurses Memorial in Canberra.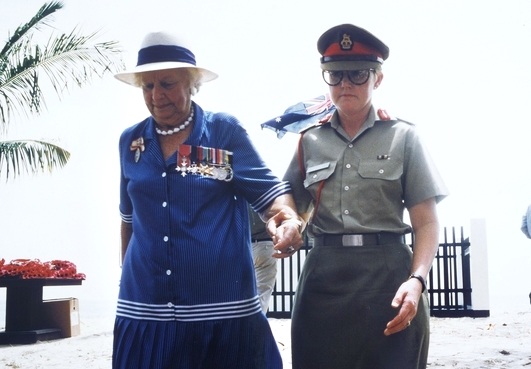 Two months later Frank Stratham died, and on Monday 3 July 200 the enormous heart of Vivian Bullwinkel stopped beating.
Prominent in her service file is a signed 'Undertaking to Preserve Official Secrets' declaration. What was 'the official information acquired' by this amazing nurse. Only after her death was the truth revealed. The Australian nurses had been separated from the men on that Banka Island beach to be raped by the Japanese soldiers, before they were forced into the sea. It was not to protect the reputations of the afflicted or even the sensitivities of the families, but the reputation of the military commanders who had failed their men and women in Singapore. A confidant admitted that Vivian had been tortured by the secret she had been forced to conceal. Not only was she told she must never divulge the 'violation' but that she had been ordered by the Australian Government that she was not to include the truth in her statement to the Tokyo Japanese War Crimes Tribunal. This intrigue was to continue with Vivian's laundered uniform on display at the Australian War Memorial. Only those allowed to examine it most closely observed that the above waist buttons were sewn with a different thread.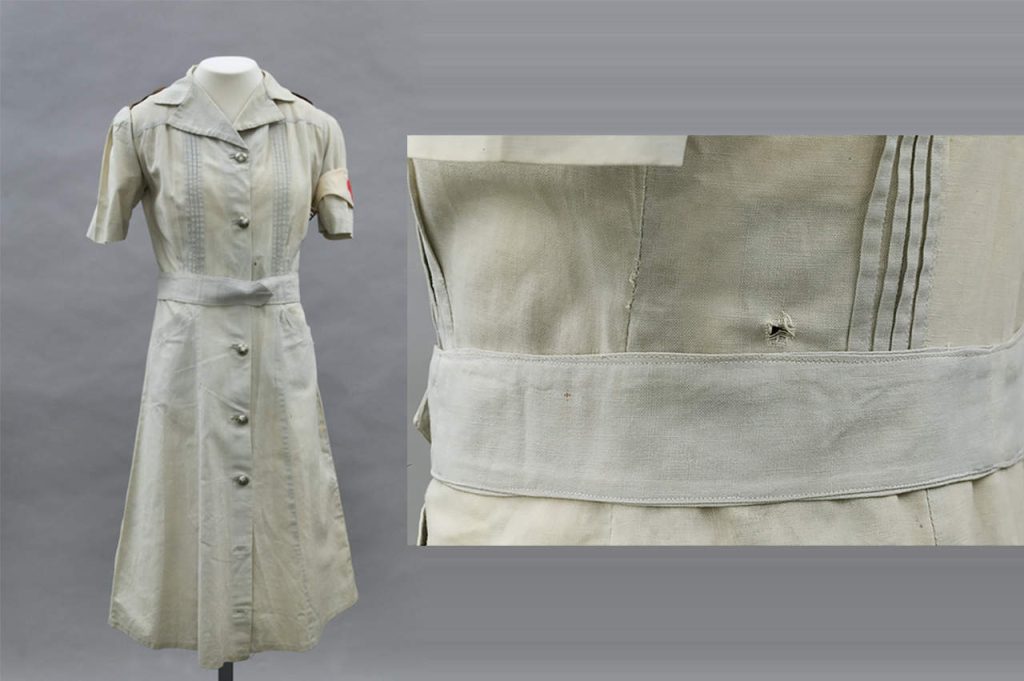 I do wonder if that Army Cadet who failed to appreciate the elderly lady he was hosting, thinks of her, and that night. He may be still serving, and could only aspire for a citation in his name which read like that on the ARRC awarded Vivian Bullwinkel, signed by Australian Army commander and Chief of General Staff, Lieutenant General Sir Vernon Ashton Hobart Sturdee, KBE, CB, DSO.
During the period 15 February to the end of March 1942 on Banka Island she exhibited outstanding devotion to duty in voluntarily nursing many wounded British naval and army personnel thereby reducing casualties and probably saving their lives. From March 42 to August 45 she was interned by the Japanese on Samatra with 32 other members of the AANS. Throughout this period the nurses had to carry out many heavy tasks of manual labour on Japanese working parties and were under threat of molestation and personal violence from the brutal Japanese. In addition to these duties the nurses voluntarily nursed sick personnel. Throughout the whole period, in adverse circumstances, Lieutenant Bullwinkel exhibited outstanding courage, selfless devotion to duty and a magnificent example.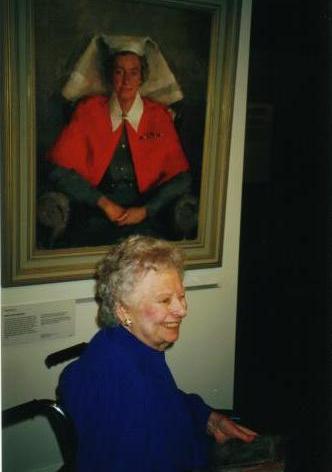 Vivian's own brief description can be heard on the following link:
https://www.adelaidenow.com.au/news/national/one-in-a-million-campaign-vivian-bullwinkel/video/960c5f93f12cff0ae17253ba24461191