It came in the post, and it was wonderful, a pretty lace postcard from a terrible war. 'A Kiss from France' for a mother. He remembered her birthday but given the irregular mail and distance the card had to journey around the world Sapper Horace Mervyn Herrod (6672)...
read more
Victor Charles Friberg was born to Anders and Amelia Friberg of 'Mootala', Locksley Road, Ivanhoe, Melbourne, Victoria. The family enjoyed a stable middle-class lifestyle thanks to the furniture manufacturing business Anders had established. Victor entered the family...
read more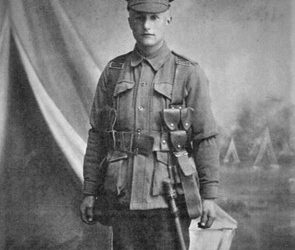 It is Easter Sunday and a sunny day for a drive. A lunch-stop in Berridale. Across the road a memorial to service and sacrifice. It is difficult to miss, not only because it commands a prominent position on the corner of Jindabyne Road and Myack Street, but the...